It's been a big week here at Fictorians. Just a few days ago, we had our very first superstar guest post with David Farland talking about the future of publishing. We have more excitement today with a giveaway by the very excellent Jacqueline Carey.  More about that soon…
I've been thinking this week about what makes a memorable character. Every now and again, along comes a character who is so alive, they seem to jump right off the page. This is the character who climbs into your head with you and comes along for the ride as you read their story and then lingers in your memory long after the book is closed. This is the character you want to be or, at least, to hang out with.
I didn't discover fantasy until my early 20s (unless we're counting Enid Blyton) and one of the first memorable characters I encountered was Phedre no Delaunay from Jacqueline Carey's Kushiel's Dart. Phedre is a vibrant and beautifully-drawn character, sold into indentured servitude as a child and then raised as a spy and a very special type of courtesan. She's intelligent, poised, determined, and just a little bit devious. She faces heartbreak, treachery and murderous plots, all while seemingly never getting a hair out of place.
Jacqueline Carey's most recent novel, Saints Astray, which continues the adventures of Loup and Pilar from Santa Olivia, will be on the bookstore shelves any day now. To celebrate, Jacqueline is offering a signed copy of Saints Astray for one lucky Fictorians reader. To enter, leave a comment below telling us in 25 words or less who your favourite book character is.
Want more than one entry? Post a link to the Fictorians blog on your facebook page or your own blog, or tweet the details of our contest. If you do any of these things, leave the details (including your web address and twitter handle) with your comment. There's a maximum of 4 entries per person (one for each method of entry).
Entries will be accepted until 9pm PST on Thursday, 17 November. All entries will be transferred to our special winner selection machine (ie a baseball cap) and a random entry drawn. The winner will be announced on Saturday, 19 November.
Sorry, this offer is available to US residents only.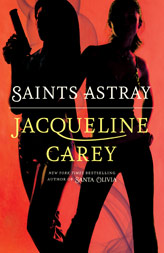 Click here to read the first chapter of Saints Astray