I read three well written novels novels recently and wasn't sure what genre they belonged in. They were set in the future – one was set in a dystopian Calgary with some really cool cyborg people, another was set on Mars where people had the option of having their consciousness transferred into android bodies, and the third was set in another solar system with interstellar travel and neat technologies and alien beings. Science fiction seemed logical as they were all in the future, but their telling and basic elements were much more traditional.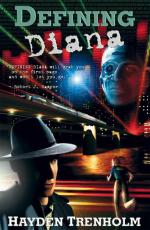 If mystery had a future-crime sub-genre, all would fit that category beautifully. Rob Sawyer's Red Planet Blues has a delightful, laid back gum shoe detective. Defining Diana by Hayden Trenholm (see his blog on writing science fiction later this month) is a solid crime novel that's gritty, hard and gruesome when it needs to be. K.A. Bedford's Hydrogen Steel has a retired homicide inspector struggling to save humanity while she struggles to accept her own physical reality. These are three well-executed detective stories  marketed as science fiction.
The fact is, when we write, we use elements from several genres in our stories. Mystery in science fiction. Thriller in fantasy.  Romance in steampunk. The mash ups are as varied as the imagination! And yet, some work better than others. Why? The magic happens when the author understands the elements that make each genre unique. For example, a cozy mystery like Rex Stout's adventures with Nero Wolfe, could have easily fallen into the annals of "literature' as Stout deftly captures the voice of the time by using strong characters and a well-defined milieu. Yet, his stories are, first and foremost, mysteries and his novels are marketed as such.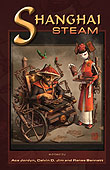 In all four examples, it is each author's ability to understand the genres they are mashing that gives their work depth and memorable voice. Most importantly, their writing is a joy to read as it pleases the intellect on many levels. Making it fun for the reader, transporting him to worlds he never dreamed of – that's the true test of knowing your genre well and choosing mash-ups wisely. I recently had the privilege to edit Shanghai Steam , an anthology with a unique mash-up of steampunk and wuxia. Reading the submissions and editing the selected stories was fun because authors who understood the subtleties of both genres created distinct worlds, plots and characters. Fun, gripping, mind-blowing – that's what it's all about for writers and readers.
Do you choose to write in one specific genre or do you use a mash-up? Every novel has elements of several genres and the question is one of degree and desired market placement. Is it science fiction or mystery? That's determined when you decide the character of your novel – what its unique voice will be. It's no different than creating well-rounded, deep characters as was discussed in many of February's posts. Frank Morin, in his post Complex Characters reminded us of Shrek thinking he is like an onion – layered. In his post Platonic Male-Female Relationships in Fiction (a.k.a. "The Glue"), Evan Braun compared the complexities of romance against friendship as he discussed how each creates a different dynamic in character interaction. What is your story's dynamic? How will the  genres you choose relate to one another? Is your story more mystery or science fiction? Which genre will have the stronger voice? Like Shrek's onion, how many layers deep will you go into each genre? What blend provides the best milieu for telling your story? How will your characters and your readers react? What will you choose?
March's posts will help you better understand how each genre can give your story its unique voice and character. We'll also have posts comparing genre writing to literature, choosing which genres to mash and how to market them, and there'll also be a case for not worrying about any of it. There will be posts on specific genres including horror,  steampunk, fantasy, romance, science fiction and many others. What makes each genre unique? What makes it work?
Choose your story's voice and character and have fun writing as you peel back the layers!
Let's see now … Miss Marple in dystopian 2081? A western horror? Steampunk space opera? Romantic military SF? Historical fantasy thriller? Urban fantasy folktale? So many to choose from…