I've touted Daniel Abraham's work on this blog before. It's no secret I admire his writing as much as any other author working today. Recently, a friend asked me why. There's plenty of reasons that come easy to hand: prose that is neither too flowery nor too spare, his ability to balance plot, pacing, character, and depth of worldbuilding into a melange that doesn't rely too heavy on any one ingredient. But of course, there are plenty of other authors that can claim similar skills, and after my friend asked, I realized I'd never really figured out that extra something Abraham brings to his work that keeps me coming back.
The Special Sauce, if you will.
I turned my gaze inward and pondered this for awhile, and hit upon the answer in the most meta way possible. Because that very act was my answer.
Whether he's writing epic fantasy that spans the lives of a small handful of characters, co-writing a science fiction series (with co-author Ty Franck) that somehow manages to be space opera, hard(ish) sci-fi, and character-centric all at once, or writing a different epic fantasy that does so much awesome stuff I can't even describe it without making this sentence absurdly long (I tried), Abraham's books have one constant: characters who think about their actions, both before and after, in the larger context against which they are set. He brings a literary quality to his characters, not enough to bog down plot or pacing, just enough to make them real. Let me try and explain with a few character sketches:
A widow who mourns her husband while acknowledging that he died fighting for the wrong cause. She contemplates the pointlessness and waste–and inevitability–of war even as she sets out to steer her war toward the least bad conclusion.
A detective who believes that saving one missing person from becoming just another statistic in a hardscrabble universe can redeem him from a lifetime of bad decisions he made almost unconsciously. And all the while, he drives a wedge between the human connections that could actually save him, and does so entirely knowingly.
A former priest of a dangerous and destructive cult who recognizes what he once represented as both evil and false and walks away from it, only to find himself drawn back into the fight to stop its spread years later.
A mage who destroys the world through his desire to protect those he loves and their way of life, and in his guilt and desperation to repair the damage, risks destroying even what little remains.
A gentle boy long tormented by his peers until he grows into a man capable of immense cruelty while a portion of him still remains kind and gentle. He is (entirely believably) both monstrous and good at the same time.
These characters act in altruistic manners, or they self-deceive for self-interest, or they desperately try to right wrongs they believe themselves guilty of, falsely or not. Yet in Abraham's expert hands, all of them have something in common, a hard-won, often tragic wisdom that comes from self-examination (sometimes too late) and a desire to do what is right even if they can't see what that is.
I know many readers aren't fans of so-called "navel-gazing" (a term I hate) as a trait in characters. But trust me when I say that Abraham handles this with the same aplomb and balance as he handles his books' other elements. I'm not certain self-examination of the depth Abraham explores occurs with the same frequency in real-life people, but to the author's credit, it never bogs down his stories, instead strengthening his recurring themes of growth coming at a cost.
Regardless of what genre he hops into (he's also got a paranormal romance series, and I can't wait to see what characters his promised cosmic horror novel novel introduces) Abraham brings us the same quality and depth of characters. It's this knack that keeps me coming back over and over to his writing.
About the Author: Gregory D. Little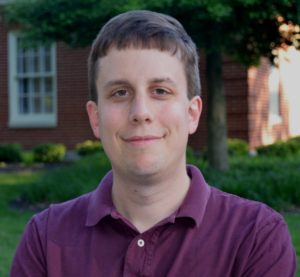 Rocket scientist by day, fantasy and science fiction author by night, Gregory D. Little began his writing career in high school when he and his friend wrote Star Wars fanfic before it was cool, passing a notebook around between (all right, during) classes. His novels Unwilling Souls and Ungrateful God are available now from ebook retailers and trade paperback through Amazon.com. His short fiction can be found in The Colored Lens, A Game of Horns: A Red Unicorn Anthology, and Dragon Writers: An Anthology. He lives in Virginia with his wife and their yellow lab.
You can reach him at his website (www.gregorydlittle.com), his Twitter handle (@litgreg) or at his Author Page on Facebook.