Author, model, and professional cosplayer Tonya L. De Marco contributed several articles for the Fictorians over the years after attending the Superstars Writing Seminars.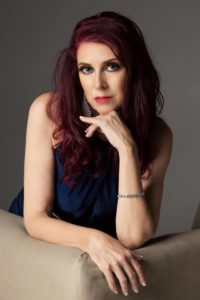 Fictorians: What are you drinking today?
Tonya L. De Marco: Coffee, coffee, and more coffee.
Fictorians: What have you done for the Fictorians?
Tonya L. De Marco: I've written 3 articles as a guest poster.
Fictorians: What genres do you prefer?
Tonya L. De Marco: I mostly prefer writing speculative dark fiction. I'm very in touch with my dark side as you can see if you've read my other articles and most of my published work so far. Taboo subjects are also very near and dear to my heart and I often incorporate that into my writing, often along with some type of erotic flavor. I've struggled to keep to a PG-13 guideline in the past. I also write non-fiction articles which have been published with Fictorians and in magazines.
Fictorians: What's your current project?
Tonya L. De Marco: I'm currently working on a short story submission with a deadline of November 30th. It's a little bit steampunk, a little bit science fiction, and the story involves cats.
Fictorians: What can we expect to see from you in 2018?
Tonya L. De Marco: You can expect to see more articles, more short stories, and hopefully a novella or novelette. I'm trying to learn to draw out my muse when I need her and not just when she want to be heard. Another goal for 2018 is to become a member of more professional writing organizations. I'm currently a member of The Horror Writers  Association.
Fictorians: Besides writing, you're also a costume designer and professional cosplayer. What was your last project?
Tonya L. De Marco: My last project was designing a dress for an Elvira-inspired cosplay.The dress was very challenging and I learned so much making it! I did a combination of 2 different patterns and my own design elements in drafting the pattern. For the bodice of the dress, I also did a built-in corset for the first time. I see more cosplays I an use this pattern (or a modification of it) for in the future!
Fictorians: What was the last convention you went to and how did it go?
Tonya L. De Marco: I've just returned from a convention in Arkansas. I'm not going to name the convention because there were serious issues and possibly fraud associated with at least the promoter. What was wonderful was how all the volunteers, cosplayers and vendors all rallied around each other for support. I feel like I've got a new family from the experience.
Fictorians: Where can we find more about you?
Tonya L. De Marco: Mostly on social media and at plenty of conventions across the country. Make sure to check out the "about" section on my Facebook page which I will be updating again shortly.
Tonya L. De Marco – Published Cosplayer/Model and Author
Facebook: https://www.facebook.com/VintageSteamtrunk (page name is Cosplay Tonya)
Member: Horror Writers Association
Website: http://tonyaldemarco.com/
Instagram: https://www.instagram.com/cosplay_tonya/
Amazon Author Page: https://www.amazon.com/Tonya-L.-De-Marco/e/B00I38RNI8/
Fictorians: Anything else you want to say?
Tonya L. De Marco: Thank you very much for the interview, it's been an honor. Also, if you'd like to see me at a particular convention as an author, a professional cosplayer, or both, please tell the convention programming staff you would like to see me there as a guest. You can send the above links if they ask for them. Thank you!