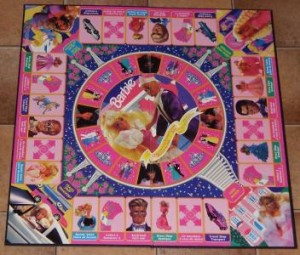 I've always been a big fan of board games.  Although my taste in board games has become more refined with the likes of Dominion, 7 Wonders, Agricola, Age of Empires III and more, I had to start somewhere. And I started with Barbie Queen of the Prom (BQP).
First, some background. Growing up, I primarily lived with my dad and my brother. I had to sit through countless hours of He-Man, college basketball, pro basketball, G.I. Joe, golf, and occasionally baseball. While I do appreciate all of these things, let's just say I paid my dues. So every now and again, my dad and brother let me pick out which board game I wanted to play, and I would almost always choose Barbie Queen of the Prom. And I'm just going to write it now so the embarrassment for them is over quickly: my dad or my brother almost always won. They always got to be queen of the prom! *Folds arms, grumpy face*

Anyhoo, something funky was going on with BQP.  I had the re-boot version of the 1960's board game, and apparently the rules weren't any clearer in the 90's than they were back in the 60's (kind of like actual prom – ZING!). The basic premise is this: you start out with some Barbie bucks and with those you accumulate a dress, a hairstyle, a ride to the prom, and a boy to take to the prom (you didn't have to pay for the boy, thank goodness). Then, when you got to the prom, you spin (sometimes over and over and over) until somebody gets to be prom queen.
But here's the weird part – when you got to prom, if you landed on a friend tile (a token with one of Barbie's friends on it), you picked it up. But the rules were extremely vague about what you actually did with this token. Before this point, every token accumulated was used in exchange for something. After some careful speculation, my dad, brother and I could come to no other conclusion but you could trade in one of your friends for an extra spin – that is to say: another chance to become queen of the prom.
What. The. (Youknow.)
All social conditioning from the first part of the game aside, what's up with this trading in your friends thing?! That's so not cool, man.
The moral of my story is this: when things aren't clear, people can't help but assume. In writing and in life, if you don't make things clear, things will start to go awry.
Also, if something doesn't ring true, people will notice.
All games take a bit of imagination and fantasy in order to come alive. Make sure that whatever you develop rings true and leads the audience in exactly the direction you want them to go (even if that direction is misdirection), or they may just start trading in their friends for a chance to be queen of the prom.
***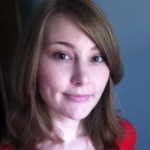 Kristin Luna is a Marketing Consultant by day and writer by break of dawn. She prefers to wear t-shirts. Kristin, a descendant of the infamous Dread Pirate Roberts, is currently working on a Young Adult fantasy trilogy. When she isn't contemplating marketing campaigns or writing, she's crocheting, playing board games, figuring out yoga, teaching her cats sign language, reading, or getting in cabs saying, "To the library – and step on it!". She is kidding about only two of those hobbies.