I love mysteries and crime stories especially when they're set in the future or on other worlds because they not only solve crimes, the good ones also explore the relationship between humans and technology and maybe even with other races. That combination makes Detective Science Fiction is the perfect genre mish-mash!
What are detective science fiction stories?
They're detective stories set in the future, on earth, other worlds or somewhere in outer space. The detectives need to be observant, to investigate, to question suspects, work within the laws (or sometimes outside them), report to superiors, interact with segments of society. While the detective does his job, the reader experiences a future society through the detective's eyes. It's a very up close and personal view of the world.
Why does this mash-up make for great crime fiction?
Technology changes but human nature doesn't. Despite our technological advances, crime is still part of our world. Theft, murder, white collar, blue collar crimes, crimes against humanity, deviant crimes, commercial crimes, drugs, crimes in international law (slavery, genocide, war crimes, piracy, for example), and the list is endless. In writing about the future, it forces us to consider our lives in the present. What if technology changes and we can read the brain or the psyche to predict if people will commit crimes? What are the ramifications? What happens when we break the laws of alien cultures? What are frontier crime and justice like on a newly colonized world? What happens when an android commits murder? Android or robot detectives, even if they're good at their job, what perils do they face? What constitutes crime in the future? How are murder mysteries solved in the future – great sleuthing or with advanced technology?
Why do they work? Isn't science fiction supposed to be about the science?
Detective science fiction works because detectives are like scientists in that they question, they need to know how things work, they explore, they follow clues. But detectives need to find the truth, and to do that they must dig into the corners of society, personalities, and political structures. They need to know a little about everything just enough to ask the next question or suffer the consequences if they don't. In short, detectives in science fiction are the best tour guide to both future technologies and the resulting human condition. Technology usually has a huge role to play in a detective sci fi and for that reason I greatly admire the authors who go that extra step to know their worlds well.
What are key features of this genre?
For me, it's a toss-up between technology and characterization. Both are essential and both are the reason I keep reading detective science fiction. The best ones have great plot twists and turns, and are sprinkled with red herrings. As a reader, it's easy to immerse myself into a society with this combination of plot, technology and characterization. However, just as with commercial crime and mystery stories, there's a wide range of styles or sub genres within this genre mish mask.
There are cyberpunk detective stories where the element of human/computer relationship plays more of a role than characterization and plot. Then there's hard boiled noir detective science fiction where in a dark, futuristic society, a detective (usually a gun-slinging male) must solve a crime written in the style of American noir of the 1930 and 40s. There are some cozy mysteries in that the crime is committed off scene and there is little violence but it's heavy on the setting, the detective's character, but the detective isn't usually laid back citizen, like Miss Marple although there may be lots of deduction and little violence.
But the general feature of a good detective science fiction, no matter the subgenre, is the world building, the protagonist's interaction in that world and the morality tale that crime stories evoke.
Book recommendations:
If you haven't read any detective science fiction, beware – there's been a lot written but not all of it has been categorized as detective science fiction, it's still in the larger science fiction category. And, it's not brand new either! Here's the classic story from Isaac Asimov himself of why he wrote his first detective science fiction. This led to him pioneering the human-robot buddy cop genre.
"[John] Campbell had often said that a science fiction mystery story was a contradiction in terms; that advances in technology could be used to get detectives out of their difficulties unfairly, and that the readers would therefore be cheated. I sat down to write a story that would be a classic mystery and that would not cheat the reader — and yet would be a true science-fiction story. The result was The Caves Of Steel."
The Caves of Steel is a must read.
To date, Good Reads has over 100 books listed in its Science Fiction Detective category. BestScienceFictionBooks.com contains a stellar list. It's worth checking these lists. So for this reason, I won't be listing the popular and classic books like the "Gil Hamilton" stories by Larry Niven. Instead, I've got 5 authors and novels you may not be familiar with but are worth reading: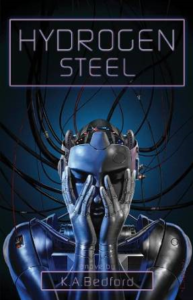 Hydrogen Steel by K.A. Bedford
When top homicide inspector Zette McGee is called out of her mysterious retirement to help Kell Fallow, a desperate former android accused unjustly of murdering his wife and children, she knows she has to help him. (This is powerfully written, with lots of great world building and much intrigue with sabotage, spies and nasty infections. The consequences of and ramifications of artificial intelligence and artificial consciousness are dealt with superbly.)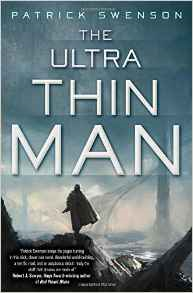 The Ultra Thin Man by Patrick Swenson
In the twenty-second century, a future in which mortaline wire controls the weather on the settled planets and entire refugee camps drowse in drug induced slumber, no one –alive or dead, human or alien—is quite what they seem. When terrorists crash the moon Coral into its home planet, it is up to Dave Crowell and Alan Brindos, contract detectives, to solve an interstellar conspiracy or face interplanetary consequences. (Clever title. Clever concept. To say anymore would be to spoil it. Sorry.)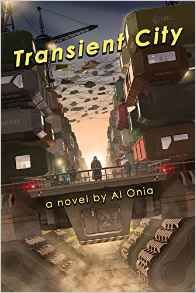 Transient City by Al Onia
On a distant mining colony at the far reaches of outer space, vast cities crawl across the surface of a desolate planet looking for valuable minerals while their citizens struggle to survive. Victor Stromboli, a professional crime scene witness, is nearly crippled by the brutal memories he can neither control nor forget. Now he has to solve the mystery of a missing corporate executive who happens to be married to the one love of Victor's life. (Crawling cities! What a cool concept especially on frontier planets where the characters are strong and quirky and come with really unique idiosyncrasies!)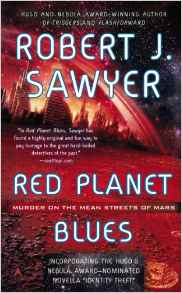 Red Planet Blues by Rob Sawyer
P.I. Alex Lomax works the mean streets of New Klondike, the domed Martian city that sprang to life in the wake of the booming fossil market. He plies his trade among the failed prospectors, corrupt cops, and 'transfers'—folks wealthy enough to upload their consciousness into near immortal android bodies. Then, he lands a cold case—a decades old murder of Weingarten and O'Reilly, the men who first discovered evidence of life on Mars. (This was a delightful gumshoe romp which dealt with the implications of transferring human consciousness into android bodies, thus making humans, albeit wealthy ones, nearly immortal.)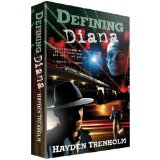 Defining Diana by Hayden Trenholm
Found naked and alone in a locked room, the beautiful woman was in perfect health, except she was dead. It's 2043 and much has changed: nuclear war, biotechnology and all-powerful corporations have transformed the world. Now science is taking DNA manipulation to new levels. Superintendent Frank Steel is an old-fashioned cop who handles the bizarre and baffling cases no one else can solve. He knows the money, murders, missing persons and gruesome body shops are connected and it starts with the girl. (This novel creeped me out partly because it's set in a village not far from where I live but also because of the nature of the crime. What would a cyborg future look like, not only with cyborgs and what they're capable of doing, but what crimes come with that kind of existence?)