A guest post by Heidi A. Wilde.
When I was first asked to submit a post about knowing when to quit your goals I had mixed feelings. Aren't we supposed to never quit? "Winners never quit and quitters never win" and all that? But the more I thought about it, and read other people's thoughts on the subject, the more I realized that there are quite a few instances where quitting is actually the right thing to do, and that it doesn't mean you have failed. I love playing games of all sorts, board games, video games, computer games/MMOs/etc, you name it; and as I was pondering how best to talk about the circumstances when it is okay to abandon a goal a few gaming correlations came to mind. Stick with me here, and I'll share five examples of when quitting is the better option.
Your quest log is full and/or you've out leveled the area you're in. In order to make room for more level appropriate quests, you need to abandon some whose rewards are minimal because your level is too high. If you made a goal in your 20s and you're now in your 30s but have yet to accomplish it, chances are that the goal just doesn't fit your life now. You've grown past it. It's hard to let go sometimes, especially as we've been told so often that quitting equals failing. If you're only hanging on to this goal because you don't want to be labeled a quitter, but it's not actually going to give you anything in return, it's time to let it go to make room for goals that are more appropriate to where your life is currently heading.
Your raid group cannot defeat a certain boss. Every week you and your friends group up to try their hands at the new raid boss (big level character that takes many people to defeat), but just can't seem to do it. Perhaps it's time to look at your equipment, your understanding of the boss mechanics, your understanding of your own class abilities. In other words, you've set a goal for yourself that you don't actually have the tools to accomplish. There's nothing wrong with setting aside a goal for a time when you are equipped to complete it, or of simply dropping it completely.
Overcomplicated Quest line whose benefits are not worth the effort. You heard about a quest that sounded pretty cool, but when you get into it you discover it has 36 mini quests and you need to complete them all before getting any rewards, and the reward you do end up getting is a piece of junk. Are the developers trolling you? I would say this example would be when you set a goal for something you thought would be simple, but discovered it would take much more time and effort than you thought. Now, there will still be goals that are worth pursuing even if they end up being more complicated, but that is something you will have to decide for yourself. Is the end reward what I thought it was going to be, and will it be worth my effort? If not, then don't waste your time. There are plenty of other quests in the game 😉
Limiting Quest Line. There are some quest lines that open up relations with certain factions, but by doing so you become hated by/closed from interaction with an opposing faction. You need to find out which faction will give you the benefits you want and can use. Does a goal of yours cut you off from interactions that would be more beneficial than the ones brought about by that goal? This would be a time where dropping a goal would be appropriate. Again, you are the only one who can decide which benefits are best for you, but don't be afraid to let one go just because you've invested time into it if there is a better goal for you out there.
Misleading Quest Line. Either a quest line looks like it will lead to a certain perk (new mount/companion/area), or you were told it would, but you find out once you get into it that it doesn't. It's not uncommon to set a goal with a certain outcome in mind only to find out that working on the goal is actually taking you in a different direction. If that direction is not something you want, don't feel bad about letting go of this goal. Just because you start something doesn't mean you have to finish it if it is going to work against you in the end.
These are just a few things that popped into my head while contemplating this topic. I hope you were able to get something out of them whether you are a gamer or not. There are a couple of other thoughts I had that I want to hit on before I end.
The first one is about mindset. Sometimes being too focused on results can be a detriment. Enjoying the process, the journey, and focusing on that will bring more joy. The Bhagavad Gita (Gandhi's 'spiritual dictionary') states "Those who are motivated only by desire for the fruits of action are miserable, for they are constantly anxious about the results of what they do." A goal should have you thinking more about 'getting better' than 'being good'.
Secondly, if you are contemplating abandoning a goal, I want you to ask yourself a few questions. Why did you set the goal in the first place? Do you still have the same reasons for completing it? Do you want to quit merely because it is harder than you thought it would be? Or is it that the effort involved is too great compared to what you will actually obtain from completing it?
Make a list of honest pros and cons for quitting. Only you can know what's best for you and what will make you happy. Get rid of goals that don't bring happiness and fulfillment. Executive coach Steve Robbins said, "The people who had the least extraordinary lives were the ones who managed to adhere closest to their plans." Lives change, circumstances change, so don't be afraid to dump any goal that isn't working for you anymore.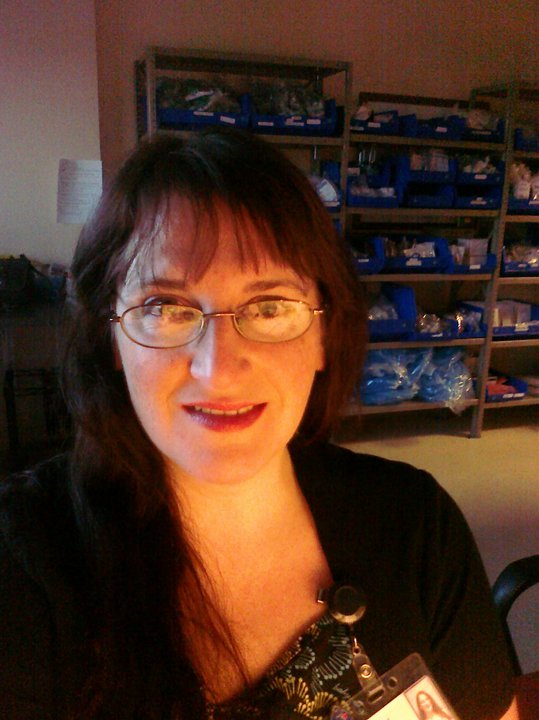 About Heidi A. Wilde
Heidi A. Wilde is a Respiratory Therapist by night and aspiring author by day. She spends her nights dragging people back from the brink of death, but she has dedicated her daylight hours to the pursuit of writing. Current projects include a Regency Romance series, a fantasy saga, and even a foray into the realm of Steampunk, as well as the occasional short story competition. She attributes the bulk of what knowledge she can claim to attendance in fabulous programs such as Superstars Writing Seminars, Dave Farland's workshops, and various conventions.