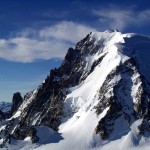 We all know the journey to becoming a professional writer is a long one.  It takes a while to "Break In", and no two writers ever seem to take the exact same path to get there.  New writers are told to keep working, be persistent, and they'll get there.
It's like dropping off an inexperienced climber at the base of a challenging mountain and telling them to just start climbing, and eventually they'll make it to the top.
But there are trails on a mountain, easier paths marked by those who have gone on before.  True, but someone who knows next to nothing about mountain climbing can still easily get lost.  Same for writers.  There is lots of help available, but sometimes we don't know enough to know what's missing when we get stuck.
Climbing a mountain is done in stages, and one thing that comes as a shock to some new writers is that becoming a professional writer is similar.  We don't Break In just once.  There are levels to craft, plateaus we reach on our journey.  Sometimes we get stuck there, unable to Break In to the next level and resume the climb up toward the ultimate goal.
Throughout the month of September, we are going to explore some of these writing plateaus where we've been stuck, and ways we've found to pass the barrier and Break In to the next level of craft.
Sometimes we need a mentor, a writing group, or an unusually honest loved one to tell us we can do better.  When I decided to pick up writing several years ago, I pounded out 70 pages in one weekend and thought, "I'm on my way!" My wife read those initial chapters and said, "I don't like your protagonist."
She was right.  He didn't work.  First obstacle.
Thankfully the answer to that one was straight-forward.  Swallow pride, throw away thousands of words of crap for the first (of many) time, and start again.
Sometimes we need a seminar or a conference or a book on writing to illuminate the shadows and show us a couple steps forward down the path.  We might need to arrange our schedule better to find more time to write.
And sometimes we just need to write another hundred thousand words of crap before we get it.
In the end, we all hit multiple plateaus, or ruts that block our forward progress.  But we don't have to stay there.
This month the shared wisdom and experience of the entire group will help map out some possible routes to reach the next plateau.