"Come in, — come in! and know me better, man!" -Charles Dickens, A Christmas Carol
We'd love for you, our wonderful readers, to get to know us better. That's why, each month, Kristin Luna will interview a member of The Fictorians. We'll learn more about each member, such as their writing processes, their work, where they live, and what they prefer to drink on a crisp Fall day. We hope you enjoy this monthly installment of Meet the Fictorians.
Meet the Fictorians:
Kim May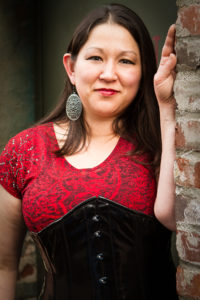 Kristin Luna (KL): Hi Kim! How are you doing and what are you drinking?
Kim May (KM): Nothing exciting. Just water.
KL: If you don't mind me sharing, you live in the beautiful state of Oregon. Do you like living there, and do you find that it influences settings in your stories?
KM: It definitely does. Oregon has very diverse terrain which makes setting research much easier. I think tundra and tropical rain forest are all we're missing. Plus there's fun historical sites like the Shanghai Tunnels (which I did set a story in) and places so full of enchantment that it's not hard to imagine fairies flitting between the firs.
KL: Besides blogging for The Fictorians, you have your own successful blog Ninja Keyboard. Tell us about it!
KM: Ninja Keyboard is where I post updates what I'm up to, new release announcements, general thoughts on the industry or a movie, or anything else I feel a burning need to talk about. I try to keep it all about me and my work. You'll never see a political rant or religious treatise on my blog.
KL: You've been published numerous times in Fiction River. Tell about your stories and how we can purchase Fiction River.
KM:  Fiction River is a bi-monthly short story magazine published by WMG Publishing. Each issue has a different editor and different theme that can be anything from historical mystery or thrillers to sci-fi and steampunk. There's something for everyone! It's a lot of fun writing so many different genres and it's definitely expanded my capabilities as a writer. Before I got involved with Fiction River I never thought I could write anything other than sci-fi and fantasy. Now I can say that I have published stories of four different genres.
Another great thing about Fiction River is because they're published like books, none of the back issues have gone out of print! They're available for purchase online on Amazon, iBooks, Kobo, and on the Fiction River and WMG websites. Reader's Guide and Powell's stores in Oregon have print copies of the issues I'm in on hand as well.
KL: Of your short stories published, which one is your favorite and why?
KM: Gosh! That's like picking a favorite chocolate bar! I love all of them for different reasons. I love Blood Moon Carnival because that's the story I channeled my grief for my 19 year old cat into. (She died the day I finished it.) I love Void around the Sword's Edge because it's my action packed "stripper saves the world" story. Moonshine is a tribute to my favorite grandmother. The Fukuda Cube was my first RPG tie-in story, and it was by far the most challenging to write. In Keep Portland Weird I got to do an ode to Pacific Rim in Larry Correia's Monster Hunter universe. In When A Good Fox Goes To War I got to play in feudal Japan, and Schrodinger's Bar has my coolest ending!
KL: All of those sound really fun and interesting! Are you working on any longer fiction right now?
KM: I am! I'm finishing up two novels. The first is a new adult contemporary fantasy that I'm going to indie publish sometime next year and the other is a techno-thriller I'm going to pitch around.
KL: What are some of your writing goals for 2017?
KM: I just want to survive 2017. I've got three short stories and a novel coming out next year…and that's just what's on my publishing schedule right now. I'd also like to write the sequel to the new adult book I mentioned earlier. That's all in addition to working a full-time day job and managing my arthritis, which are exhausting by themselves.
KL: What's some of the best writing advice you've received so far?
KM: This is something I've talked about on this blog and on my own. It's WTFS. Write the (bleep) sentence. I used to spend so much time agonizing on what the perfect phrasing would be or if description A was better than description B. I needed to understand that a first draft is just that: the first of many drafts. It doesn't need to be perfect right away. It's better to put something, anything, on the page and fix it later.
KL: What writers are most influential to you and why?
KM: Anne McCaffrey, Brandon Sanderson, Jacqueline Carey, Peter S Beagle, Mary Robinette Kowal, and Patrick Rothfuss are my favorite storytellers. I easily get lost in the worlds they've created. Choose Your Own Adventure books were pretty influential too. As a kid I read each of them three or four times. The first time I'd find the ending I liked best and then backtrack to find the path I had to follow to get there. After reading it that way I'd re-read it to find out why the other paths ended the way they did.
KL: What is your favorite Fictorians post so far?
KM: My first post is my favorite: Stockholm Syndrome Barbie. It's a slice of me with a cherry on top. Stockholm Syndrome Barbie – The Fictorians.
***
If you have any questions for Kim, please leave a comment below. Thank you for reading!