A Guest Post by RJ Terrell
Balance is a state that most of the human population strives to achieve, in some way or another. And there are different types of balance, such as with the body, the mind, career, etc. In this world that we live in, finding the right balance in any part of life is a challenge. We have so many things that call, or rather, demand, our attention.
Balancing life and career, is a particular challenge that I can confidently say an overwhelming majority of the population faces. We must earn enough income to make a living, while carving out enough time to enjoy our lives, the fruits of our labors, as well as the important people in our lives.
Since I was a child, my dad would often say to me, "you have some kind of ability to make things difficult." Of course, he had no idea at the time what my career choices would be, but to an extent, it was right on the money. Since I was a child, I'd wanted to be an actor, and early into adulthood I realized that I was also a writer.
You may be gritting your teeth by now. Yes, I'm called to be an actor as well as an author, while living in one of the most expensive cities in the world. Making a living is difficult when you are working to become a fulltime working actor. Ask any actor out there, and the will agree. They may even sigh while agreeing. Making a living while working to become a fulltime author is not quite as difficult, as you can hold down a fulltime job and write in whatever spare time you can allot, but that does not diminish the difficulty. Building any career while working a job is not easy.
I wake up in the morning with the story I'm writing on my mind, almost from the start. Then whatever is happening in film industry at the moment, or what I need to do in terms of filming a scene to send to my agent, a script I need to prepare for class or an audition or a show that day, etc. At the moment (even as I type this) I'm thinking about whether I have received all the necessary forms so that I can submit my taxes.
I sign books and meet fans of the shows I've worked on at various comicons throughout the US, which takes me away from home at least four days per show. When I'm not on set, I spend an entire work day writing. It's a constant seesaw battle between both professions as they demand my attention. Then there's exercise, the passive hobbies of video games (which has become a rare enjoyment) and reading. And then there's my poor wife.
I'll not pretend that I've got it perfect. In building two careers at the same time, you begin to understand how life works from an interesting perspective. I can literally compare the progress I make from either endeavor based on how much energy I put into either. With acting, more factors are out of my control in landing an audition and booking the role. All I can do is continue to train as much as possible, put things on tape to send to my agent, and repeat the process until I'm called for an audition. As a writer, I have a bit more control. I can write, edit and revise, and mail the manuscript out to a prospective publisher, or publish it myself. (this is a gross over-simplification of the process, but I figure you're not interested in all that, and I don't have enough space here in any case) The odds are a little easier, as when you submit to a publisher, good work stands out like a blinking 'Eat At Joe's' sign.
So for me, I must fight the temptation to spend all of my time writing and none of my time training with fellow actors for when an audition does come my way. This is a difficult thing when with one, you can see the results of your efforts in a relatively short period of time, versus with the other, where you can put in the effort for weeks, months, or in some cases, years, without seeing results for your efforts. It's a tough thing to do.
And there have been more than a few occasions when my lovely wife reminds me, (sometimes gently, sometimes with more force) that it would be nice to see me, or spend time with me.
So how do I manage all this? Well, it's an interesting dance, but being that I'm an introspective person, I tend to think a lot. Often too much. But one benefit to this is I can remind myself of what is most important in my life, what I want most out of it, and what I need to achieve it. Splitting my energy between two careers at the same time is a challenge I've not yet mastered, but when I am building my career as an author at the expense of my acting career, I pull back and shift things. I may have to shave an hour out of my writing time to go over a scene and play with a character, or dialogue.
I can say that there has never been a reverse situation. It would take a great effort for me to ignore my writing at the expense of acting, because unless I am a fulltime working actor on a show, I need only chip out an hour or two a day to stay on top of things.
And for my personal life, I often remind myself that I should feel quite fortunate that there is someone who wants to spend time in my presence. I'm incredibly lucky to be married to the woman I am married to, who understands and supports what I am trying to do. I owe her my time, and much more. Not to mention the fact that I love spending time with my wife. The trap, for me, is being in the mindset of working to create the life my wife deserves to have, so that we can live a comfortable life devoid of financial struggle. But all of that is meaningless if we have no life together.
Everyone is different, but for me, balancing life and career(s) is a matter of communicating with my wife if I'm under a deadline, or must concentrate hard on a scene I may be filming or auditioning for. When I'm not working on set, we drive together to her work, and I do my writing nearby so that we can meet on her lunch break. She goes back to work, I go back to writing, then we drive home together.
When we get home, we may sometimes workout together, but oftentimes, if I'm under a deadline or have a scene to work on, we're in separate rooms until an hour or so before it's time for sleep.
Balancing career against career? It's one-sided. I constantly remind myself to pull out some scenes and work on them, continue to exercise my acting muscle, keep the instrument working. Writing is easier, because I simply sit down and do it, whereas with acting, you get the best out of your work with another actor to bounce the scene off of. So for me, that is the biggest challenge.
So I haven't mastered this dance. I'm still working to create that rhythm that I might sink into so that this becomes second nature. Until then, I remind myself when I am neglecting a part of my life that needs attention.
Working hard toward goals is a good thing, but keeping life in perspective helps me to keep in mind what is most important in my life.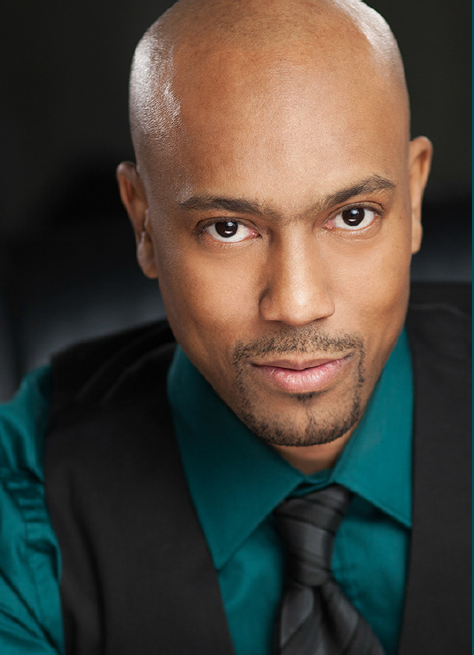 RJ Terrell:
Ramon Terrell is an actor and author who instantly fell in love with fantasy the day he opened R. A. Salvatore's: The Crystal Shard. Years (and many devoured books) later he decided to put pen to paper for his first novel. After a bout with aching carpals, he decided to try the keyboard instead, and the words began to flow.
As an actor, he has appeared in the hit television shows Supernatural, izombie, Arrow, and Minority Report, as well as the hit comedy web series Single and Dating in Vancouver. He also appears as one of Robin Hood's Merry Men in Once Upon a Time, as well as an Ark Guard on the hit TV show The 100. When not writing, or acting on set, he enjoys reading, video games, hiking, and long walks with his wife around Stanley Park in Vancouver BC.
Connect with him at:
http://rjterrell.com/
R J Terrell on facebook
RJTerrell on twitter
R. J. Terrell on Goodreads