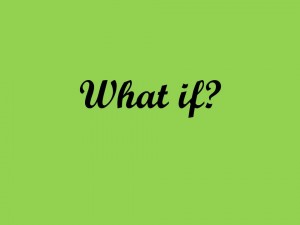 Have you ever had a great idea for a story that thrilled you with the possibilities, only to struggle to develop it into a fully realized manuscript?  You have that scene that burns so bright in your mind, but just can't seem to expand it into a full novel, or that character you know as intimately as yourself, but lacks the right scenes to shine? Or, maybe you just finished a work and you're searching for the next big idea, but aren't sure where to start?
Whatever stage of your project you happen to find yourself struggling in, there's a simple yet powerful tool you can always turns to for inspiration.
The "What if?" game.
This game casts you beyond all bounds, out into the realm of pure imagination. There are no limitations, no hesitation. No idea is too crazy, no disaster too terrifying that you cannot consider it. Don't hold back when playing the "What if?" game. Ask yourself, "what's the worst possible thing that could happen in this scene, or to this character?" and then explore the possible answers.
The results can be a little scary. We need to torture our heroes, but sometimes we cringe back from the awful reality of just how bad we can make things for them. Or we hesitate because if we follow the newly illuminated road our ideas have revealed, it'll mean a lot of mental struggle to figure out how to guide the heroes through the new difficulties to their eventual triumph.
Don't hold back.
These are exactly the moments to take a second look and ask "what if?" again. That new, twisted, crazy idea might just be what our story needs to drive it from mediocrity to excellence. It might require more work on our part, it might torture our characters until we cry out with them, it may challenge assumptions we've made.
It may be awesome.
Of course, it may kill our story too by taking it off a cliff. In that case, discard that idea, ask "what if?" again, and explore a different road.
Sometimes we play the "what if?" game in the middle of free-writing a scene, when we're struck by a sudden burst of inspiration and type a few lines that veer the story off the expected course. Again, we need to explore it, consider it, and decide if it was a false start or an exciting new twist.
In one manuscript, I wrote a scene where one character's powerful magical weapon, which was critical to the plot, unexpectedly fell into the sea and was lost. I hadn't planned it, but while writing the scene, I realized this was the worst thing that could happen, and I wrote it. The resulting scene became more powerful by entire magnitudes, although it left me quite literally shaking from the shock. At first I wanted to delete it, to shy away from the disaster I'd revealed, but that would have weakened the story and been the easy way out. Eventually, I figured out how to deal with it, and the story proved the stronger for it.
Recently I played the "What if?" game with a friend to explore the deep back story of a current work in progress, and after traveling far afield, we came up with some wonderful ideas I never would have considered without casting myself out into the world of limitless possibilities opened through "What if?". Those answers now tie in aspects of the plot that were hanging a bit loose, and the resulting whole is consistent and far more powerful.
What experiences have you had with the "What if?" game? If you've never tried it, what are you waiting for?
What if it revitalizes your story?
What if . . . ?