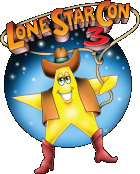 So, we've been talking about workshops, seminars, and conventions this month, and we couldn't possibly go without mentioning Worldcon. With the World Fantasy Convention (WFC), this is one of the big ones for writers starting out. There is no cap for Worldcon, as there is for WFC, so this convention has a higher guest count and a much higher fan to writer ratio. It's not as intimate an atmosphere (if you can call 750 people in one hotel intimate), but it's a very good place to go for new authors.
At a workshop I went to a few years ago, Pyr editor, Lou Anders, said that if you're looking for a publisher and/or agent, go to WFC. Once you get a publisher and/or agent, go to Worldcon.
I'll be honest. I've never attended a Worldcon in the past, but this year, it's in my back yard, so to speak, so I'm totally planning to go. In addition to the huge amount of programming they have every year, there are plenty of parties to attend and lots of pros to meet running around the place.
Hugo Award winning author Mike Resnick wrote a great guide for beginners attending Chicon7 (this past year's Worldon). It's a really good read for those, like me, who will be attending for the first time, no matter what year you're going. The official site also has some advice for first time goers here.
Here's the skinny on Worldcon 2013, or as it's been titled, LoneStarCon3:
This year, the convention will be in San Antonio, Texas, August 29-September 2, 2013.
Membership is $200 for an adult attending membership until April 30, 2013. More info can be found on their membership page.
There are two host hotels right on the San Antonio Riverwalk. Bookings opened on the website today, January 21, 2013. The Riverwalk is a major tourist attraction, so the prices can be a little high for many people ($154 for single/double occupancy; $175 for triple/quad). But there are plenty of other hotels in the vicinity that are a little more affordable, and it's always a good idea to bring a friend or two to cut costs.
Programming isn't up yet, of course, but there's always a huge amount to see and do. On the programming page there are links to the programming from previous Worldcons. Check it out to see what you might be looking forward to.
In addition to the programming and parties, there's also a writer's workshop, if you want spend some time with a couple of pro authors working on your craft while you're at the con. According to the workshop page, there's a fee of $15 to reserve a spot. Reservations open in July.
As for me, I have to say, I'm already kinda jazzed to go this year. Since it's open to everyone, I can actually convince some of my friends who don't write to go with me, and the wealth of pros going is always a great draw. And since it's only a few hours drive from my house, I won't have to shell out big bucks for airfare, which is always a plus. Honestly, just taking a look at the official site makes it seem like there's entirely too much to cover everything, but we'll surely have a ton of fun trying.
So, anyone gone to a Worldcon before or going this year? Share what you've enjoyed in the past and/or are looking forward to this year. Help us first-timer's figure out what to get ready for.
See ya there!