In yesterday's post we asked if it was possible to create mythology and why, as writers, we need to. In this post, I'll talk about some of the tools I use to build mythology.
The truth is that our rational minds want to and need to rationalize what we cannot control. We need to make sense of the paradoxes and the unexplainable. It doesn't need to be far out – it can be based on pagan principles (survivalist on Maslow's hierarchy*), technological environment (Robert J Sawyer's trilogy, Wake, Watch, and Wonder in which hte world wide web wakes up. Although doesn't tackle the question of myth creation directly, it makes a good case for a developing a myth based in technology). In a world of proto-people, vampires, werewolves, zombies, revenants and the rest, how do your characters view their own origins and existence? How do the humans view them? Are these proto-people like mythological figures to the humans?
The starting point is to look at the geography, the world that your characters inhabit. Is it a harsh environment like the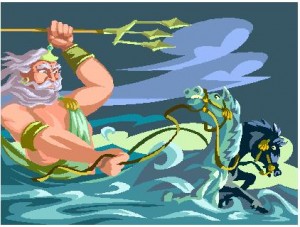 polar ice cap, low gravity of mars, void like the moon, rich and abundant like Tolkein's Middle Earth, or is it an urban setting on modern? Whether it's an alien on/from another planet, ancient peoples, futuristic people on space ships, a post apocalyptic world (in Hunger Games they lived with the mythology, the "gods' who determined whether they were chosen to die) you need to know your environment and then determine how your characters will respond to it.
So, what challenges will your protagonist face based on where she lives? How does her environment affect her and those around her? Most importantly, how does she make sense of what is happening around her? In my current work, a fantasy with historical overtures, the ancient civilization lives on a volcanic island. Rules, conduct, religious practices are all based on keeping the God of Thundering Mountain happy so he doesn't erupt. When He rumbles, then the Magic Master is in trouble. Throw in the Earth Mother and her goddesses who have been upset since the God of Thundering Mountain arrived. Now the world is rife with possibilities. Of course, we don't get to see the God and Goddesses interact, we know the tension exists between them through the interactions of the High Priestess who serves the goddesses and the Magic Master who serves the god. Throw in some commerce-based political drama, a murder and a foreign kidnapping and all actions in this new mythological background are bound to blow up – literally and figuratively … especially when we learn that the God wants to be incarnate so he can walk the world and rule it.
So you can see how this mythology developed from the environment. First, by determining the geography, the time period and the level of technology. Then there's the interpretation of that world by its inhabitants which then determines how people act and react. But let's talk about technology for a moment. In the time period I'm working in, 2000 BC on Crete, archaeologists discovered that the Minoans had developed some basic, actually very sophisticated, astronomy.
The cool thing is that the constellation we know as Orion's Belt, was known to them as the Double Headed Axe. That's all we know about it – not even why they saw it that way. Isn't that the most exciting piece of information a writer can have? I mean, it's the perfect symbol in the book! When it pops up, all sorts of things are going to happen! And, I've even mentioned that for one character, the double axe looks like it's slung on a belt. That modern reference draws the astute reader further into the mythology because there is now a ring of truth, a familiarity to it. So even basic technology and information can tell us a lot about how people interpreted their world and how they would have reacted. Most importantly, it can help us create that mythology with a deeper meaning rooted in basic survival.
The thing to watch for is not to assume that the current value systems we hold, religious, political, economic and law enforcement systems we adhere to are the same for the characters in your book. If they are, that makes for safe, dull writing unless you're writing a great emotional drama in that specific environment. The purpose of writing is to entertain, to challenge readers with new thoughts and perspectives. Readers want to understand and experience the world you are delivering. Even if it is set in modern day, they want to read about those who rightly or wrongly challenged the status quo, became the hero, went on an epic journey mentally and physically. And the easiest way, to my mind, is to do that by developing a new mythology for that makes it a fun and safe way to deal with paradoxes.
I'll share one more tidbit with you. On Minoan Crete, they had tholos tombs where bodies were put to rot before the bones were placed in pithos jars. Cool, eh! So the basic questions are, why? What did this mean? How does it relate to their world view and what's happening? My answer was that the Earth Mother, who helped give them life needed to feast on the flesh of her children to welcome them back into her womb and her world. The bones remained so people would remember their connection to their ancestors and the Earth Mother. What's your interpretation? Go, delve into the world you're creating. Look closely through the eyes of your characters and let them tell you how they see it. You never know what great mythology lies in that first inkling of an idea!
*for more information on Maslow's check out my post: http://www.fictorians.com/2011/10/17/valuing-your-characters-or-maslow-for-writers/
***
Just a small reminder to not forget about Monique Bucheger's Book Bomb today! You can now get 30 ebooks by participating, 19 free and 11 at $.99. Go to Moniquebucheger.blogspot.com for full details.