A guest post by Heidi Berthiaume.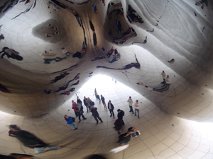 Some writers feel a rising tide of panic when they think about how much time they think (or are told) they need to spend online in various social network sites such as Facebook, Twitter, Tumblr, Google+, etc., when what they really want to do is just write.
The thing to remember about social networking sites that being social is the key – it's about relationships, not pushing a product. So it's important that where ever you spend your social media time, you have fun. If you consider tweeting a chore, you're not going to do it enough or engage with other people on Twitter for it to be of any benefit to you or your writing.
In order to help you find a social media home (if you want one), I'm going to go all metaphorical and give examples of what a few social media sites would be like in the real world.
Facebook (http://www.facebook.com/) – short to long posts throughout the day, pictures and videos show up on the page. Think of Facebook as a large dinner party. Some people are talking outside the house (public pages), but most of the conversations happen inside, so you
have to sign up. If you walk in without knowing anyone, you might feel lonely. Once you find some Friends, you'll engage in conversations with them, to meet their Friends, and keep up on what other people are doing. Some celebrities also come to this party (or their representatives and fans do). You'll have a running list of other folks' posts on your Wall which you can Like, Share, and comment on whenever you want. Your involvement can be real time or delayed – comment three seconds after someone posts or nine hours later, doesn't really matter. Conversations can be picked up and dropped at any time.
Twitter (http://www.twitter.com/) – 140 characters or less, links out to pictures and videos, can use a hashtag (#) to identify your tweet with a theme/concept/cause/etc. Think of Twitter as a really crowded bar – lots of conversations happening in real time, really fast. You can walk by and overhear a few conversations (public tweets), but you have to sign up in order to join in. As with Facebook, if you walk in without knowing anyone, it can be lonely – you'll just be sitting at the bar talking to yourself. As soon as you Follow some people and they Follow you back and you guys start talking, the social part is on. And it stays on as long as you are logged in and tweeting. With only 140 characters to use, and some of them getting used up if you directly reference another person (@theirname), there's not a lot of room for discussion, so commenting on a tweet from yesterday, or even a few hours ago loses context very quickly.
LiveJournal (http://www.livejournal.com/) – long blog-like posts, can join or create Communities of like-minded folks, fun with User Pics. If you have a blog on your website, it's kind of out there on its own, a little lemonade stand on the Information Superhighway. If you have a blog on LiveJournal, it's like having a lemonade stand in a small town where you get to know the neighbors and can have some great conversations.
LinkedIn (http://www.linkedin.com/) – mostly business and career based. Think of LinkedIn as a job fair where you go with business card and resume in hand. Good place to show off your day job skills and connect with people in the industry you want to be hired. Also a good way to keep up with old and potential co-workers. Recruiters may contact you for a position based on your Profile, and other people can endorse you for specific skills.
Tumblr (http://www.tumblr.com/) – all about sharing images, animated GIFs, and hashtags. Tumblr can be pretty fandom orientated, so think of a convention with a huge bulletin board where people put up pics of their favorite shows or celebrities or artists, and often these pics have something added to them (captions, Photoshopped effects, etc.), thereby creating a new cool thing. You can see a few posts through the window of the convention center, but to participate, you have to sign up. Comments can be text or an image – there are some funny, amazing comment threads that happen on Tumblr, often with multiple in jokes of the fandom that is doing the talking. Just by posting pics of stuff you like with a hashtag (#DoctorWho), you can connect with like-minded people fairly quickly.
Pinterest (http://www.pinterest.com/) – all about sharing images (mostly still) and videos, but with more structure than Tumblr in that each image/video/Pin is associated with a Board. Think of Pinterest as a lot of people sitting around sharing photo albums. Lots of Boards are public and you sign up to Re-pin or upload your own Pins on as many Boards as you want to create.
Google+ (http://www.google.com/+/learnmore/) – standard text/pics/video sharing with the feature of video Hangouts and the ability to create Circles. Think of G+ as a bunch of old-time party lines – you decide who is in each Circle, so when you post to that Circle, only those people will see it. Facebook has Lists, but supposedly it's way easier to partition people in G+ (I don't know, I haven't used it).
There are bunches more social networking sites out there like Reddit and MySpace and DeviantArt, and each has their own personality and way of interacting with its kind of community.
I started out on LiveJournal because I wanted to connect with a few authors I met at a convention. Tried Twitter for a while, again to keep up with folks I had met, and decided it was too real time for me (I also have a cheap, pay-by-the-minute phone so being online all the time wasn't feasible). Occasionally I'll post to Pinterest, but mostly I go there to browse for art inspiration and DIY craft ideas. I have found my current social network home on Facebook – I like the balance of text and images and have some great friends I like to keep up with at whatever time I want to log in and look.
So try out a few social networking sites. Find your kind of folks. See which model best fits how you want to spend your time and energy, because ultimately being part of a social networking site should be fun. Seriously.