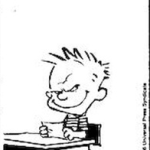 I loved to write as a teen-ager.  I even completed drafts of two novels by filling hundreds of pages of notebook paper with my cramped, almost illegible handwriting.  I was going to be a writer, I just knew it.  Then I got to college and got side-tracked into other things, including a computer programming career.
My decision to begin writing again years later came rather abruptly and I dove into the process with great enthusiasm.  If I could go back and talk to myself as I pounded away on my first monstrous epic fantasy novel, I would applaud the enthusiasm and the tenacity.
I would also say, "Get out of your head."
I wrote in a vacuum.  It was just me and my imagination and my computer.  I labored for what became years on revision after revision, with little input from anyone other than my wife until I completed a novel that could never be published.  And still I wrote on.
That process did provide ample opportunity to write hundreds of thousands of words, to develop plot and character, and build the basic foundational skills of crafting sentences and chapters.  I improved my writing technique, but I missed out on so much more.
Many aspects of writing are solitary, but not all of them.  Sure, I have to sit down and type or take up my voice recorder and dictate.  No one can do those things for me.
But the truth I wish I had known earlier was that we are not alone.
It was not until I attended my first professional-level writing seminar after years of writing that I began to see the truth.  The knowledge gained there helped dispel long-held misconceptions about what it meant to be a professional writer, not just a hobby artist.  The writing group the students formed after the seminar became a source of great support.
Since then I have attended many other seminars and conferences.  Every time, I've met more great people.  As my network has grown, so too has my confidence.  At first I was usually on the receiving end of advice and wisdom, but that is slowly transitioning.  Now I find myself sharing my own experiences and giving advice to newer authors, most of whom are a lot smarter about getting connected sooner that I did.
Writing may be a solitary art, but being a writer is not.