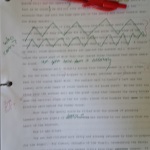 Most non-writers, and many new writers, have no idea that finishing that manuscript and typing END is anything but the end.  I know when I started writing, I couldn't see beyond reaching that final scene.  Of course, that first novel was a 300,000 word monstrosity that took me over two years to complete, but the principle is universal.
The first draft is not the final draft.
That truth is even more daunting when we consider how few wannabe writers actually reach the end of their first draft.  Of those who do, many lack the determination to see the project to its full completion.
It's easy to assume the tragic artiste pose and proclaim in an awful imitation of an accent from some European country, "This is my Art and the muse must be honored.  The words were given to me like this for a reason."
Not if you want to sell it and actually have someone read it.
This becomes the dividing line between those who like dabbling in writing as an enjoyable hobby and those who are serious about becoming a Writer as a career.
Some first drafts are pretty good, but pretty good isn't enough.  Every successful author I know recognizes they will need to make several editing passes through each novel before it's ready.  One of the reasons we're encouraged to write what we love is because if we don't LOVE our stories enough to work through them at least half a dozen times, we're going to HATE them before the process is complete.
Many new authors don't understand this and unfortunately in today's ebook world, it's all too easy to complete that first draft and throw the book right up on Amazon.
I for one have read some of those stories.  After wading through the piles of novels that make me cringe when I look at the cover or read the first page, I've selected one that looked like it had real promise.  Many times those ebooks turn out to be pretty decent, maybe have a great concept and tons of potential, but where the author wasn't patient enough to really finish the work.
I find it tragic when I complete an ebook like that.  When I think, "You know, that could have been a really good book.  But it was only about 90% finished and needed more polishing."
What a waste.
Not only of my time, but of the author's time.  They worked so hard bringing that novel to life, only to not put in the effort to get it that last 10%.  It's like Frankenstein stitching together the perfect monster only to not bother raising it up on the platform during the lightning storm.  That last 10% is what infuses the story with it's real life.
That's one of my fears:  that my novels won't be ready.
I cringe when I think back to my first monstrous novel.  With how little I knew about the industry, about editing, I was convinced it was a great work and totally ready to go.  Had the ebook revolution already been underway, I probably would have self-published it.
I would have destroyed that story.
I'm glad I didn't have that option and that the dozens of rejection letters finally clued me in that there was something missing.  I've since thrown that novel away and rebuilt it from the ground up.  The resulting story is ten times better and is one of the eight books I'm preparing for publication in my upcoming "Eight Books in Eight Months" publishing blitz.
Before I pull the trigger on those novels though, I've dedicated the time to rewrites, I've gathered honest feedback from beta readers, and I've worked with professional editors (including Joshua Essoe and Evan Braun) to make sure they're really ready.
Even so, I still have to wonder, are they really?
This time I feel a lot more justified in saying, "Yes."