Over the years the Fictorians site has existed we've talked a lot about Superstars Writing Seminar. This group wouldn't exist without Superstars. It's hard to explain how special this conference and the people who attend it are. But maybe, Lisa Mangum's post below might give you some idea.
Lisa has loved and worked with books ever since elementary school, when she volunteered at the school library during recess. Her first paying job was shelving books at the Sandy Library. She worked for five years at Waldenbooks while she attended the University of Utah, graduating with honors with a degree in English.
An avid reader of all genres, Lisa crossed over to the publishing side of the industry in 1997. She's currently the Managing Editor at Shadow Mountain. Lisa loves movies, sunsets, spending time with her family, trips to Disneyland, and vanilla ice cream topped with fresh raspberries. She lives in Utah, with her husband, Tracy. She is the author of the Hourglass Door trilogy and After Hello.
So, Lisa – When is a Purple Unicorn more than just a silly mythical creature?
***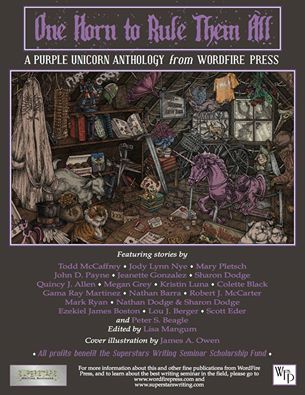 I've been working in the publishing industry since 1997, and I've seen a lot of books cross my desk. I've even written a few books of my own. But I haven't ever really edited an anthology quite like ONE HORN TO RULE THEM ALL. I mean—purple unicorns? Really?
Yes, really.
The genesis of the collection came about from the Superstars Writing Seminar. I was attending for the first time, and I was both impressed and amused by the fact that a purple unicorn was the example used to illustrate how to be a professional author. The idea was that if an editor asks you for a story about a purple unicorn, you better deliver a story about a purple unicorn.
As the conversation continued, I made a comment on the Superstars Facebook page about how now I kinda wanted to write a purple unicorn story. Enough people agreed with me and responded with title suggestions and more pictures of unicorns than I imagined existed. (Though, hello, Internet, so perhaps I shouldn't have been surprised.)
The idea stuck with me, though, long after the seminar ended, and one day I emailed Kevin J. Anderson (cofounder of Superstars) and said, "This might be the stupidest idea ever—or the most brilliant."
Together we hammered out a plan that would result in a collection of twenty stories about purple unicorns. I said I would donate my time to edit the anthology (including reviewing all the stories and editing them) if WordFire Press would publish it, and all sales of the book would benefit a scholarship fund for someone to attend next year's Superstars.
I'll be honest. It's not like I had a lot of time to edit a 100K-word anthology in July. I had a novella of my own to finish writing, plus a Con to attend, plus helping my husband shoot his short film, not to mention all the work that comes with my full-time job as Managing Editor of Shadow Mountain Publishing. And yet…
I wanted to work on the project. I had such an amazing time at the Superstars seminar, and it was such a rich and fulfilling weekend that I wanted other people to enjoy the same thing. Plus, I had made dear friends with the other Superstars attendees, and I wanted to read the stories they would write.
So, as an editor, I asked for unicorn stories. And, as professionals, the Superstar authors delivered.
And oh, the stories they wrote! Some were funny, some were sad. I read stories about detectives and mobsters and fairies and moms and zookeepers and veterans. I traveled to distant planets, to Fairyland, to a Comic-Con.
It has been a joy and a privilege to work on this anthology. The stories are amazing, and best of all, with each book sold, we get that much closer to bringing even more aspiring authors into the Superstars Tribe as we help each other make the leap from amateur to professional.
Being a writer can be a crazy career choice. Publishing can be heartless. It's a crazy world out there, kids. Best find yourself a Tribe—and bring a unicorn with you if at all possible.
***
 Thank you, Lisa. Purple Unicorns are everywhere.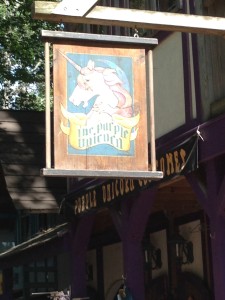 She picked some amazing stories for the anthology. Kevin J. Anderson and the entire WordFire gang will be at Salt Lake ComicCon starting on September 4. Stop by the WordFire Booth to say "hi" and maybe help us fund the Superstars scholarship. If you buy a copy of One Horn To Rule Them All at the Wordfire booth I bet you can get several of the authors to autograph it. The book sells for $14.95 in paperback and $4.99 in E-reader formats:
If you (like me) aren't able to attend the Salt Lake ComicCon this time, you can find Purple Unicorns here:
Kobo: http://store.kobobooks.com/en-US/ebook/one-horn-to-rule-them-all
(Kobo like Shadow Mountain is a Superstars Sponsor so if we can send love/ sales  its way, that would be wonderful).
Amazon: One Horn
Barnes & Noble: One Horn To Rule Them All.