The newest volume of the Aurora-Award winning Tesseracts series is available online today!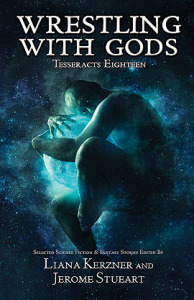 Tesseracts 18:  Wrestling with Gods examines the intersection between speculative fiction and religion.  It's my honour to be part of this prestigious series with a story entitled Burnt Offerings.
Corporal Pasharan was destined to spend the rest of his life in a military sanitarium were it not for his tale of a near-death experience with a god.  Now sanctified as a Shaman, he's been equipped with cutting-edge technology and the freedom of cyberspace.  He can never dare admit that his tale was a fabrication, or that he remains unconvinced about the existence of any form of deity.  When a young soldier converts to another religion and risks the wrath of her theo-political superiors, Shaman Pasharan must find his own kind of faith to make a choice between truth and power.
The title of the anthology was a big inspiration:  Wrestling with Gods.  I knew I wanted to write about a character whose relationship with his faith wasn't an easy one.  I started thinking:  what would it be like for an agnostic character in a ministerial job?  What if he didn't have the luxury of resigning over his doubts, because he counted on that job not just for livelihood but survival?  That got me thinking about the intersection between faith and power; between privilege and faith; between speaking the truth and the fact that honesty can sometimes get people killed when the wrong folks are listening.
For the main character's dependency on his job:  I had a hemiplegic migraine one day and decided to waste time on the internet.  A while later I realized:  here I am chatting to people who don't even realize I'm sick.  Nobody notices facial droop or slurred words on the computer, and I had a lot of fun despite being in no fit shape to go anywhere.  I put that experience into my main character as well:  he's disabled, but his role as Shaman to a technology god gives him this incredible power and authority in a virtual environment.  And yet all the time he's very aware that his physical body makes him face pain, limitations, and dependency on others.
I'm a Wiccan with primarily Christian family and in-laws, and I have an amazing family that believes in respectful discussion and mutual understanding.  In the real world, I've seen cases of people horribly persecuted just for being Christian, and cases of people who call themselves Christian harassing and demonizing people of other faiths.  I think every faith is capable of having both immense good and immense evil done in its name, and I tried to represent this in my story.  The theo-political complex my main character lives under is a Pagan religion.  The Kin are my idea of what an organized, institutionalized, corrupt Paganism would look like, and they're kind of a mixture of Asatru and Catholicism with a bit of eclectic Paganism thrown in.
You can get your own copy of Wrestling with Gods today on Amazon Kindle.  Paper copies will be available starting in March (Canada) and April (US).