A guest post by Emily Godhand.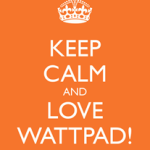 At the Superstars Writing Seminar, I had the pleasure of meeting Wattpad's own Ashleigh Gardner, a friendly and charming woman who gave a great speech on what Wattpad could offer budding writers as well as professional writers.
What is Wattpad?

It would be an easy mistake to describe Wattpad as "just a reading and writing app".
While as of January 2015 it does offer over 100 million uploads of stories in over 50 different languages contributed by Wattpadders, and is often used by mobile readers and writers (85% of traffic!), it does so much more than just enable you to read or write a story.
What  makes Wattpad so unique is the ability for readers to interact with those stories they love so much through in-line comments, and for writers to not only respond to the feedback, but to receive and post fan-made works of music, videos, and art.
What does Wattpad offer authors?
It would also be a mistake to describe Wattpad as a "publishing platform".* Anyone over the age of 13 that has a working internet connection can post a story to share with the world. But Wattpad isn't only useful for teenagers looking to get into writing, it offers many things to more established or professional-minded authors as well.
*though authors would be wise to take note of editors who state they prefer works that haven't been seen on the internet.
Visibility
Wattpad enables you to get your name out there and build a fanbase of people who recognize your name and works. This is truly especially if you are a young-adult writer, as most Wattpadders are under 30.
Feedback
Receive real time feedback, even line-by-line commentary, on what readers enjoy or disliked about your works. Build excitement for your works and get them talking amongst each other, or people they know, especially on other social media.
Why wait for a review that may or may not talk about specifics, when you could learn what lines or characters or scenes are working (or not working) for people?
((A preference for this differs by author; some people don't like others in their kitchen and that's fine. You can ignore it!))
Motivation
People look forward to your updates! If you have an update due, and your readers are expecting it, how can you justify disappointing them? If people are counting on you to write, you are more likely to glue butt to chair and get on it.
Connection with Fans
On that note, your readers and fans can comment their responses, questions, and comments in your stories, leave a message on your message board ('wall' like on Facebook'), or message you directly.
I never thought growing up that I'd ever be able to speak with the authors I loved reading, but here they are on Wattpad. I could send them a message at this moment or write a fan letter on their message board.  I remember one time I managed to track down this Indie author on Amazon and sent him a heart-felt message thanking him for his book, and how much it meant to me. I didn't expect him to respond. But then…he did. And that means so much to readers.
Community
But with that, you not only create this community of supportive readers, but also fellow writers who can provide support and feedback.
You're going to love it. 🙂
Guest Writer Bio:

Emily Godhand is a cross-genre author who lives in a book fort in Denver, CO, with seven rats who revere her as their Queen.
As former psychiatric technician, she draws her inspirations from her work and the constant nightmares she's had for 13 years. As such, her works tend to focus on an exploration of trauma, immortality, and human consciousness.
Read her latest work on Wattpad, where she is an Ambassador.