My recently completed Watchers Chronicle is by and large a travelogue. The stories hit every continent, more than a dozen countries, and even more cities and countrysides. At book signings, I am often asked if I have visited all the locales featured in the book, to which I must sadly answer, "No. I wish." Frankly, I don't have the budget or time for first-person research on that scale. Very few authors do, including those many times more successful than me.
So what's an author to do? With a story like this one, the locations exist in the observable world. I can't just make up geography to suit my needs. The cities and streets and lakes and fields and mountainsides are all real. They exist, and therefore they need to be as accurately depicted as it's possible to do from the confines of my home in the middle of the Canadian prairie. It's very flat here, and I can see an awfully long way, but I can't see all the way to Switzerland.
Fortunately, Google can. Specifically, Google Earth. Google Earth is an encyclopedia of visual information sorted geographically. If you want to see locally sourced pictures and information from any location in the world, all you need to do is scroll to it on Google's beautiful globe of accurate and increasingly detailed satellite imagery, and there you will find everything you could possibly hope for. It's a geo-lover's paradise.
The most powerful tool in the arsenal is Street View. A fleet of Google vans has been busy crisscrossing the globe's million-or-so highways and streets for about a decade now, capturing a constant stream of 360-images as they zoom through urban centers, savannahs, high-altitude plateaus, and stunning sea sides. You can literally jump to just about any street you can think of and see for yourself exactly what it looks like. You can study the buildings, the passersby, the sidewalks, the shops, the road surfaces themselves, the soil and terrain, the trees and vegetation, even the wildlife, literally everything available to the eyes. Do you want to know exactly what the terrain is like at the opening to I-50's Eisenhower Tunnel in western Colorado? No problem. Do you want to see which shops and restaurants adorn New York's Times Square? Easy. Do you want to track the exact route between London's Piccadilly Circus and Heathrow International, and capture all the sights along the way? Done.
What a resource to travelogue authors everywhere. Jack Kerouac never could have imagined this.
Of course, these research tools don't fill in all the gaps. Your imagination still has to bring these still images to life. And of course the eyes only account for one of the five(ish) senses. You still have to fill your story with the endless sounds, smells, and tactile details needed to create a truly rich and diverse literary experience.
That said, Google Street View really is the perfect place to start. Unless your story is set on Mars. Except, actually, Google is working on that too…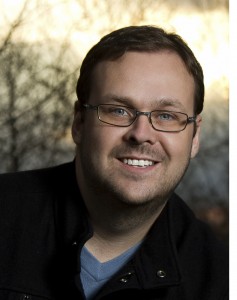 Evan Braun
is an author and editor who has been writing books for the last two decades. He is the author of The Watchers Chronicle, whose third volume,
The Law of Radiance,
has just been released. He specializes in both hard and soft science fiction and lives in the vicinity of Winnipeg, Manitoba.