Most professional authors have attended conventions as a fan before they were bitten by their muse. Some attend to sell books, sit on panels, and even do a reading or two. I've been asked numerous times how a new author can learn the secret handshake to get behind the table or podium instead of getting stuck in the back row of a crowded room.
The answer is: It depends on the convention.
Getting panel time is easier for the local conventions, and it is a good place to start. The budget for a 150-attendee convention can't sustain bringing in a lot of headliners, so they usually focus on a big name or two to draw the crowds. This leaves plenty of room for a newly published author to get in front of an audience and polish their presentation. Smaller cons can also allow you to interact with folks who inspire you as a writer. When I started going to conventions again after a 23-year gap, I found myself sitting next to luminaries like Kevin J. Anderson, Connie Willis, Peter J. Wacks, C.J. Henderson, Carrie Vaughn, and Eytan Kollin.
Your attitude will help determine how far you'll get. Approach a potential panel opportunity from the perspective that you will be glad to help the Con Panel Chair in any capacity. Never act like you're doing the convention a favor by appearing in their midst. If you sold one pro short story or over fifty novels, remain humble and helpful.
Now that you've been invited to the other side of the table, here are a few things I've learned:
Be on time. You can be fashionably late when you've won a Bram Stoker Award®, an Edgar®, and a Hugo® or two. If you've won those awards, you'd probably be too professional to be late anyway.
Look the part. Be clean, wear reasonably decent clothes, and try to avoid the controversial t-shirts. If it's part of your persona to be a smelly bum with less than three square feet of ripped t-shirt covering a beer gut, understand you won't be looked upon with favor for the next convention.
Pay attention. When another author is talking, follow the conversation so you can contribute without repeating points others have made five minutes ago. When an audience member is talking, look at them and nod your understanding of their question. When a luminary is talking, pay close attention to how they interact with the audience. They've been doing the panel gig for a while, and you can learn quite a bit just by using your senses instead of using your smartphone to update your Facebook status.
Panels are not a competition. There is no need to one-up the previous panelist, and you are not getting paid by how many seconds you can keep the microphone in your hot little hands. Share with others, allow the other panelists to complete their thoughts or stories, and don't forget to keep yourself on the topic of the moment.
Be appreciative. Always thank the other panelists and, most especially, the audience. Remember, the folks who are buying the books are the ones you want to make a good impression on, and you want to be remembered.
Be prepared. Unless you're a last-minute addition to the panel, you should at least know who the other panelists are, what they've written, and you should make yourself familiar with the topic. Don't forget to memorize a quick blurb about yourself for your introduction. I also like to bring a nameplate, some cards or treats, several pens, and a few copies of my latest work.
Be positive. Unless you have the funniest goth schtick going, you want to be remembered as someone who is fun, someone who compliments others, and an author who is professional. If you can contribute something funny, do so unless it is at someone else's expense. Above all, never insult an audience member or the guest of honor.
Be yourself. Relax (as best as you can.) I like to imagine I invited a bunch of friends over to my back yard for a barbecue. If you have a phobia about public speaking, I would suggest taking a class, joining Toastmasters, or just focusing everything down to the person you are talking to and ignoring the rest. I find that making eye contact and smiling works best for both my nerves and the audience member stammering out a question.
Eventually, word of mouth will spread that you "give good panel", and you will be asked to come back next year. Since there are usually several conventions in a geographic region every year, you may find yourself talking to volunteers from other events. For example, I attended Constellation Nebraska one year, and I met the chairwoman for a larger convention in Omaha. I was invited to attend OSFest, and they asked me to bring a few more authors from the Denver area. Along with Promethius Award winner Eytan Kollin, Peter Wacks, and Quincy Allen, I ended up on 13 panels, met two artists who I hired to do some book covers, and I made a lot of new friends.
If you are attending a convention as an audience member, take the time to seek out the panel chairperson. Let them know who you are, give them a professional business card with links for further information, and tell them that you are available if there are any last-minute panel cancellations. Make sure you give them your cell phone number and keep your phone with you (on vibrate only during events, of course!) I was on three panels at MileHiCon in Denver, and I made sure to tell the panel chair I was available for more if needed. Sure enough, an author had to cancel and I was the person she called to fill the open slot. They remembered I was accomodating, professional, polite, and that I helped them out of a jam. I was invited back the following year.
As for the larger conventions, it may take a while to get your foot in the door. It helps if you were on panels with solid authors who remember you in a positive light. Send in a request for a reading or panel suggestions to the panel chairperson, along with your writing credentials and group affiliations. I usually include a link to the panels I sat on within the last year (http://guyanthonydemarco.com/panels/), and note the name-brand authors who were on some of the panels. If you keep in touch with other panelists, you can always ask if there are any open slots for upcoming panels. Sometimes it takes one person to remember you so you can get your foot in the door. Thanks to Peter Wacks and David Boop, two gents from the Colorado writing scene, I was able to get on panels at StarFest in Denver, which is a notoriously difficult con to crack.
The more panels and readings you do, the more people will remember your name and your face. If they enjoyed your events, they are more prone to read your latest book, especially if they can get it signed. That's the difficult task…getting something published that shows off your talent. If you did your writing job well, the rest will follow.
About the Author: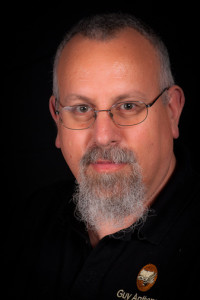 Guy Anthony De Marco is a speculative fiction author; a Graphic Novel Bram Stoker Award®; winner of the HWA Silver Hammer Award; a prolific short story and flash fiction crafter; a novelist; an invisible man with superhero powers; a game writer (Sojourner Tales modules, Interface Zero 2.0 core team, D&D modules); and a coffee addict. One of these is false.
A writer since 1977, Guy is a member of the following organizations: SFWA, WWA, SFPA, IAMTW, ASCAP, RMFW, NCW, HWA. He hopes to collect the rest of the letters of the alphabet one day. Additional information can be found at 
Wikipedia
, 
GuyAndTonya.com
, and 
GuyAnthonyDeMarco.com
.