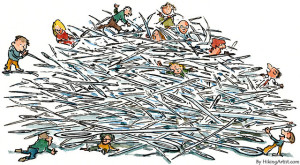 Ever feel like a needle in a haystack? Perhaps more accurate, a needle in a huge pile of other needles. We write, we publish, we go to conventions and yet somehow reaching readers seems to become more and more difficult. Perhaps they feel inundated by the "buy me" media, they have their favorite authors and have difficulty branching out, or they just plain don't realize how much they need our books. What can we possibly do to even have a chance at the love and authorly acceptance we so desperately crave…along with a few more book sales, please?
Those questions are the Fictorians' June focus. We want to help you know how to get your books, stories, poetry, or whatever your creative work, into the hands of the people who can love them best. As much as I've looked for the perfect formula online, in bookstores, and in my supposedly creative brain, this seems to be the subject that stumps me the most. From my conversations with other authors, I think I'm not alone.
Last month we talked about the writing tools. Great month, by the way. So, we have everything in line to create a great book. Are we only writing for ourselves? If not, then how do we get these great masterpieces noticed?
This month we'll be talking about the usefulness, pros and cons, and possible outcomes of activities such as:
Book Launches
Social media
Selling at conventions
Community contacts
Working with film makers
Targeting Indie Readers
And more…
So, let's combine our collective needles of knowledge and I know that we can help eachother get to the top of the stack, the sun glinting off the spectacular surfaces of our books and catching the eyes of our potential readers.
I'm looking forward to this one, and I hope you are, too.