For most, convention season is winding down. While you can find cons at any time of year really, the bulk of the major cons take place during the summer months.  But one major con is different, choosing to fight the power and place itself in late October or early November. And since I won't be making it to any conventions this calendar year, that makes the 2014 World Fantasy Convention (which I did attend) the perfect one to write about.
I call WFC a major con, but that's really misleading. While it's a very venerable con with (it will be putting on its 40th convention this year in Saratoga Springs, NY) and it has a major genre award attached, WFC numbers in the hundreds rather than the thousands of attendees (to say nothing of tens or hundreds of thousands).
As opposed to broader media cons, it's also almost entirely focused on books, and is almost entirely focused on business rather than fandom. WFC is a work con. It's a place to go and network, to meet people serious about the business of writing and publishing. As such, if you're someone like me, who doesn't have a lot of time for con attendance, it offers a strong "bang for your buck" factor if your main goal is networking.
But I don't want to make it sound boring, because it's anything but. Sure, the focus may be on business, but this is still a place to meet up with friends in the industry and a gathering of some of the world's biggest genre geeks. While it's true that cosplayers are generally nowhere to be seen, there is still plenty to enjoy. Both times I've been (2014 and 2012 near Toronto) I had a great time. And frankly, as a pretty strong introvert, WFC's smaller size is appealing to me (and I suspect I'm not the only introvert to whom that would be true).
As a Virginia native, when I learned that WFC 2014 would be in "Washington, D.C." (and I say that in quotes because it was really in Crystal City, Virginia, just over the Potomac River from D.C.), I knew it would be criminal not to attend. Having a major con show up within driving distance really gives you no excuse to do otherwise.
As with many cons of this sort, while the panels provide a lot of quality programming, the real action happens in and around the hotel bar. You'll find convention goers there at all times of day, their only concession to the rising sun switching to coffee instead of harder stuff. It's always surreal to roam around the bar area, noticing various writers and publishing giants just sitting around, talking business or just shooting the breeze. I even got to discuss the 2014 NCAA College Football season with literary agent extraordinaire (and Michigan Wolverines fan) Joshua Bilmes after he noticed my Virginia Tech shirt.
As I alluded to above, WFC is also the keeper of the World Fantasy Awards, in the past won by such luminaries as George R.R. Martin, China Mieville, Susanna Clarke, Madeline L'Engle, Gene Wolfe and Ursula K. Le Guin. The award winners are selected by a committee from a pool of nominees supplied by conference goers. There is a banquet to announce the winners at the end of the convention, which any attendee (provided they paid the extra fee) may attend. I attended in 2012 but didn't feel the need to do so again in 2014, preferring instead to get home a little earlier.
I came back from last year's convention with a bunch of new friends, a submission request from an editor, some great loot (a print of the A Memory of Light cover art signed by Brandon Sanderson and MIchael Whelan and a early-release signed copy of the Jeff VanderMeer Area X Omnibus), massive sleep deprivation and a whole lot of fun memories. If I had to do it over again, my only change would be to determine that our hotel wouldn't allow more than two beds due to fire code restrictions. It made for a difficult sleep situation for our third roommate. At some point, I am fated by karma to sleep on the floor of a hotel room in Martin's name.
So if, like me, you have to carefully pick your conventions and maximize your limited opportunities to attend, give World Fantasy Convention a try.
About the Author: Gregory D. Little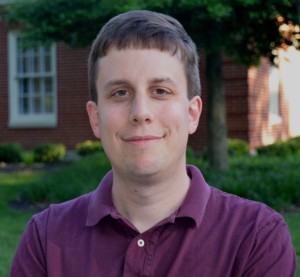 Rocket scientist by day, fantasy and science fiction author by night, Gregory D. Little began his writing career in high school when he and his friend wrote Star Wars fanfic before it was cool, passing a notebook around between (sometimes during) classes. His first novel, Unwilling Souls, will be available later this year. His short fiction can be found in The Colored Lens and the upcoming Game of Horns: A Red Unicorn Anthology. He lives in Virginia with his wife and their yellow lab.