– Guest Post by VictoriaMorris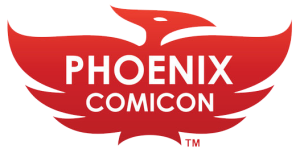 I'm fairly new to the comic con scene. My first foray was a two hour visit to Emerald City Comicon here in Seattle, just so I could get a feel for the crowds I figured I would have to deal with — in preparation for the trip south later that summer for the 2013 Phoenix Comicon. Since the noise and the commotion only made me happy to be there, I figured I was good to go.
Phoenix proved it could bring its own unique spin. First, it is HOT. And when I say hot, I mean, I've lived in Arizona, and have wonderful memories from that time. But Phoenix at the end of May, beginning of June feels like you're the egg frying on the sidewalk. The convention planners are smart though, and as they grew, they moved operations into the convention center — handy, since that's right across the street from the Hyatt Regency Hotel.
The Hyatt runs misters along the outside of their building, making the walk much more comfortable. And it's literally just one crosswalk away to the front doors of the southwest's inner geek heaven.
The main floor of this con, where you'll find the artist, author, and comic alleys, is built below ground.  It's cool, comfortable, and seriously easy to navigate. Within minutes, I knew my way around, and was more than comfortable to assume the job I had traveled 1,200 miles for: to assist at The Coppervale Marketplace booth with James A. Owen.
I spent then, and continue to spend now, the majority of my time at James's booth. For some, I'd bet you'd think that would be boring — especially when the likes of Richard Dean Anderson, Nichelle Nichols, or John Barrowman are high on the special guest lists.  Believe me, being at this booth is anything but boring.
My first year there, I got to play photographer for James as he met Dean Cane. Superman meeting an actor who played Superman. Super cool, right?  Oh it gets better! That year, Terry Brooks was also a Guest, and he came to visit with James not once but twice.  Right there, just hanging out. He invited James to dinner with he, his wife, and his sister. Just a small gathering, and let me tell you — watching an author you admire bounce like a kid in a candy store because an author he admires invited him to dinner… yeah, that doesn't stink. When it came time for that special meal, I made sure James wasn't sidetracked by adoring fans or the thousands of comic books in his path to the doors. And while James chatted with friends, Terry came down. He smiled that endearing smile, and asked if I would be joining them. I shook my head.  Oh no, thank you Terry, but this night is for you and James. I waved them off and went back to the booth. Have you ever met Karma and shaken her hand, right while you knew you were? I knew right then and there, Phoenix Comicon would always be my favorite event.
Each of the last three years I have traveled to work the show. No longer just a hand at the booth, I took over most of James's con planning because of the ease I found in Phoenix. And I know a lot of that is because they do such a wonderful job taking care of their guests, artists, authors, and every single one of the 55,000-80,000 attendees.
This last year they rearranged things to make the lower levels easier for everyone — celebrity guests were all moved upstairs, giving the lower level several more rows to work with that had been designated as line-place-holders in the past.
They also changed management. And with that came a high focus on guest comfort. At least three times a day, we had a staff member come by the booth to ask if we needed anything. And when we did, we had it within minutes.
From a fan perspective, I noticed they were much happier with the newer setup. I always have wonderful conversations with the people who come to Coppervale's booth. We usually have a lot in common. It probably doesn't hurt that I could talk about a certain series of books every single day for the rest of my life and still not get enough of them. But here, I always find new friends, get to show them some amazing art, and even sell them books that I truly cherish. Sometimes I think I'm getting more out of the deal than they are.
Every one of the three years I've attended, Phoenix has made me feel like I've come back home. Every warm home, both literally, and in heart. I couldn't put a number on how many people living there are friends to me now thanks to this convention. And because of that, I will attend for as long as I am able to.
Some other additions: Last year, Phoenix added a Fan Fest event that took place in December. Though smaller, and more focused on the comics side of the show, it was a success, and Phoenix Comicon Fan Fest 2015 will again take place at the University of Phoenix Stadium in Glendale. This year it runs December 4-6.
The important information: Phoenix Comicon updates their site well, and is currently set to the Fan Fest event.
Where: For Phoenix Comicon:  Phoenix, Arizona
Venue: Phoenix Convention Center
When:  June 2-5, 2016
Costs:
Attendees – If like past years, Comicon 2016 passes will come available for sale in December once Fan Fest concludes, with a cheaper sale price ($45 last year for Full event) running through the new year. After the holidays, the badges will go up to regular and at-the-door price. ($55-$60)
Hotels sell out quickly. The Hyatt will start taking reservations in January for the con block of rooms. There are several other options; The Renaissance, and The Sheraton for example, but they too will sell quickly. Should you wish to attend, plan accordingly.
Vender booth –
Artist Alley –    All pricing to be set after Fan Fest.
Author Alley –
Guest Writer Bio:
Victoria lives on the edge of a misty magical forest in the Pacific NorthWest with one husband, two daughters, a big white dog and one huge resident bald eagle that likes to circle over her house when she brings in the groceries. A lifelong artist and writer, Victoria is building a universe inside her head that has taken form in a six book fantasy series, with a middle grade trilogy on the side. While illustrating the world and all its characters is always on her mind, she draws portraits in her spare time to relax. Find out more at www.VictoriaDMorris.com.