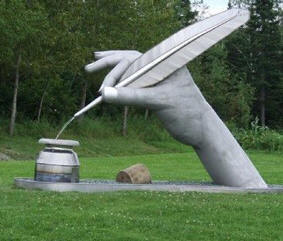 Sometimes when I broach this subject, I feel like I'm entering one of those 'anonymous' groups.
"Hello, my name is Frank, and I used to be a pantser."
I usually get one of three reactions.
Writers who are strict outliners will make dismissive gestures and assume a superior posture as they consider the foolish mortals who practice such time-wasting habits as pantsing.
Writers who are pantsers – meaning they write by the seat of their pants, often called discovery writing – will nod and talk about the wonder of exploring a story without knowing where it will lead. They will criticize outliners for turning the freedom of their art into a cold, calculating business.
Everyone else usually snickers behind their hands, imagining a bunch of high school boys running around yanking down each others' gym shorts.
I'm not talking about the last group.  That's a totally different post, one my sixteen year-old son should probably help me write.  The other two groups usually draw up battle lines and begin throwing bad metaphors at each other.  It's not quite as divisive a topic as politics or religion, but for some writers it comes close.  But like most other divisive topics, people on both sides are not as different as they like to pretend.
At most writing conferences, there are panels where professional writers take on this question of outlining versus pantsing.  The interesting thing is that the outliners usually control those discussions.  In virtually every instance at those conference panels, the professional writers will all fall be outliners and will detail to the audience, including many pantsers, all the reasons why they outline stories and why pantsing wastes a great deal of time.
That fact has fascinated me for a while, and it wasn't until this year that I realized the underlying fundamentals behind the phenomenon.  I began writing about ten years ago and, like many new writers, I started as a pantser.  I had an idea and I chased it down the rabbit hole, not sure where it was going, but enjoying the thrill of discovery.  Every time the story took a wild new turn, I had to go back and re-write what I had already written before I could continue, but that was a price I was willing to pay.
Over time, I realized two things.
I don't have time for that.
I no longer need to.
That's where the secret lies.  Most pantsers are newer writers.  Like any new inductees into any other profession, we're learning the ropes.  We don't have a firm foundation or an innate grasp of the fundamentals, so we have to work it out, build our creative muscles, and develop that understanding.  That takes lots of practice, lots of exploration.
The great thing is, that exploration is a ton of fun.  There's a sense of wonder in discovery writing that is marvelous, and it can become addicting.  Some pantsers refuse to graduate to a higher class and realize that same feeling of wonder can be experienced in other ways.
As a writer develops into a professional with several novels under their belts, after throwing away sometimes over a million words of practice, along with many worn-out keyboards, we no longer need to spend so much time exploring to figure out a story.  We can see connections, understand relationships and underlying fundamentals that we could never grasp before.
It's the same in other professions.
Imagine a leading surgeon approaching the operating table, humming softly under his breath, "The knee bone's connected to the leg bone . . ."
A first year medical student might need to, but an experienced surgeon wouldn't.  He knows without even having to think about it.
Professional writers are the same way.  Even when some of them say they don't outline their books before they start writing, that's not the same as when a fresh, new, clueless wannabe writer starts writing without outlining.  The professional already understands the underlying principles of what makes a story work.
My own writing evolved from full pantsing toward outlining, as do most authors after they complete a few novels.  While I'm first exploring a new story idea, I know what types of elements it's going to need because I've explored them before.  I know what makes a story work.  I can meld those principles into my story without having to spend several drafts trying to figure it out.  And I can immerse myself in the story as I plan it, generating that same sense of wonder and discovery, without the massive wasted page count.
Once the framework of the story is outlined, like the skeleton of a new building, I allow myself to free-write while filling in each chapter.  That leaves me open to moments of inspiration that can only come while one is immersed – in the 'zone' – but still ensures I'm working toward an organized, cohesive goal.
Both outlining and pantsing are processes of discovering a story, and melding the two together can be extremely efficient.  Like any other profession, we improve with time.  And that's a good thing, because I spent five years writing and rewriting my first novel, then throwing the entire thing away and rewriting it yet again, before I completed something worthwile.  I can't afford to do that any more, nor do I need to.  I can apply those lessons to each new project.
In today's fast-paced world, that's a good thing.
So where on the pantsing-to-outlining scale do you fall?
About the Author: Frank Morin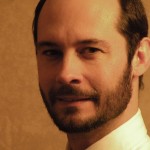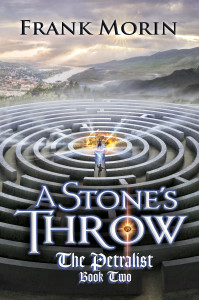 Frank Morin loves good stories in every form.  When not writing or trying to keep up with his active family, he's often found hiking, camping, Scuba diving, or enjoying other outdoor activities.  For updates on upcoming releases of his popular Petralist YA fantasy novels, or his fast-paced Facetakers alternate history fantasy series, check his website:  www.frankmorin.org