Nearly three years ago, I attended Superstars Writing Seminar in Colorado Springs. I had been writing for about a year and was excited to learn how to become a published author.
It soon became apparent that I was ahead of my time in attending. Not that it didn't totally propel my development as a writer, but one fact kept slapping me in the face—I had never finished a book. I had started several, they had great ideas, great premises; yet I hadn't finished any of them. I would write a few chapters, get stuck, and abandon the piece indefinitely.
Several in the group claimed to have written terrible novels of which they were too ashamed to let see the light of day. But they had finished them all the same. I envied them.
I left Superstars with the resolve that I needed to finish something, anything, regardless of skill or quality.
Well, three years later, I've thrown out hundreds of thousands of words. I almost finished a novel about a year ago and almost completed it, solely out of principle, to be able to claim that I had finished a novel. But after taking a writing seminar from David Farland, I knew it was garbage. I abandoned the 90% finished work for a new project.
This year I did a lot of things and learned a lot of things that have helped my writing. Each of these has a synergistic effect on my writing. First, I took another class from David Farland (this time online). I set monthly goals. Some of these goals required me to submit my short stories for publication. I hired an editor to perfect a couple short stories, and learned from this experience a great deal about self-editing. The culmination of these led to the completion of a novel. I completed a novel.
In February, I'm returning to Superstars, this time having completed a novel. Also, from my goals and endeavors, I am now a published writer. I had no less than three of my short pieces published (one in a paying market). I received my first rejection letter from Writers of the Future. And this year was my first to participate in NaNoWriMo. I wrote about 42,000 words (8k shy of winning).
These are exciting accomplishments, but the grandest of all, the one that will make me a successful writer one day, is the accomplishment of not giving up. I'm still writing.
I'm planning on taking another David Farland class or two, attending Superstars, winning NaNoWriMo, and writing throughout the year, finishing at least one other novel. I'll submit each quarter to Writers of the Future. And I'm looking for an agent for my finished novel (despite being my first, it's actually pretty good).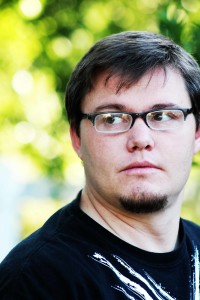 I live in Arizona with my family, wife and five kids and a little dog. I write fiction, thrillers and soft sci-fi with a little short horror on the side. I've got an MBA and work in finance for a biotechnology firm.
I volunteer with the Boy Scouts, play and write music, and enjoy everything outdoors. I'm also a novice photographer.
You can visit my author website at www.jacekillan.com, and you can read some of my works by visiting my Wattpad page.