As authors, it isn't enough to have goals and know what you want – you also have to know what you don't want.
We spend so much time working towards our goals that it seems contrarian to not embrace every opportunity that comes along, but in fact, to truly create and build up the kind of career you want most, that's exactly what you have to do. The problem isn't that we aren't offered opportunities; the problem is that we are so hungry for acceptance, so desperate for validation of what we work so hard to create, that we overlook the potential drawbacks of saying yes to the opportunities we're presented with.
This, exactly this, is what allows vanity presses to thrive, and scam artists pseudo-publishers, who promise everything from editorial guidance to production to promotion to distribution, to prosper. Education is key in avoiding being stuck in those kinds of mires, which is one reason I am a teacher for and advocate of the annual Superstars Writing Seminars – because learning the business of being an author is just as vitally important as being an author itself, and the need for that knowledge is ongoing.
New authors are extremely vulnerable when it comes to publishing scams – but those can, with a little knowledge, be easily avoided. No one wants to be scammed, so those aren't exactly missed opportunities. The ones that are more difficult to avoid, even for experienced authors, are the ones that look exactly like what we wanted, and may in fact be very close – but which turn out to be Potential Disasters In The Making.
Several years ago, I had an opportunity to sell a comic book project to a flashy, upstart publisher that had been having a lot of success in the comic book Direct Market. A lot of my peers were doing books with them, and we were in active talks to develop my project – until I read the contract. They asked not just for a stake in ownership of the properties they developed (which was balanced by a hefty page rate up front, something not guaranteed by publishers like Image where they don't have an ownership stake, but you pay all the development costs yourself), they asked for 51%. Just enough to be the majority owner of the Intellectual Property. And over that 1%, I declined.
I took a lot of grief from friends over what they saw as a stupid decision – right up until that company decided to shut down, and sell all of its properties to a Big Corporation Publisher. All my friends lost their books, because that 1% meant they never owned them from the moment they said yes and cashed the check. In some cases, they had to watch as other writers and artists were brought in by the Big Corporate Publisher to work on books they had created, while they weren't even considered.
Saying yes to that 1% might have given me a short-term boost, as it did with my friends – but I'd have lost control and ownership of something I had created, and that option was never, ever going to be appealing to me.
In traditional book publishing (as opposed to comics), ownership is not a question, unless you are being asked to do work-for-hire, or ghostwrite a project, but the same problems can arise depending on the terms of the contracts being signed. Even dealing with that issue that is mostly a matter of knowledge though, and willingness to stick to what you want, so it's something that can be worked through (or not) and signed (or not). The opportunities that are the hardest to turn down are the ones that almost give you everything you think you want – except for that one little thing. But trust me: like the 1% difference in that comics contract, that one little thing is what will define our work and our careers, and sometimes irrevocably change the direction they take.
I spent a good part of this year negotiating a publishing deal for my inspirational nonfiction trilogy The Meditations, with a publisher that is well known and respected for publishing such books. The publisher liked me. The editorial staff liked me. They liked the books a lot, and really liked the fact that I was already being paid as a speaker, doing my presentation Drawing out the Dragons. It all seemed like an ideal match and a perfect opportunity: they would publish the books, and I would join other speakers on their established lecture circuit. It was giftwrapped and ready to go…except for that one little thing.
They wanted exclusivity, not of those books, but of my efforts as an author and speaker. In doing their due diligence, it seemed to them that I had plans to continue working as a YA Fantasy author, and comics creator, and an illustrator, and they felt that was not the best use of my abilities – not if I wanted the deal to move forward. They saw me as a potential full-time Life Coach, and someone who could ask – and get – ten or twenty times the amounts I was being paid in speaking fees if I was only just willing to edit the books to point in that direction, and more fully dedicate my efforts to that end as a part of their stable of author/speaker/Life Coaches.
I had to decide what I wanted, because that proposal seemed to me to be 99% of what I had asked for – a nice book deal, an international platform, and the potential for a lot of money – but the 1% difference, which wasn't going to be contractual, just, ah, strongly encouraged, made my heart sink.
I knew what I wanted my career and life and work to be, and it was all of the things I do: writing fantasy, drawing comics, and yes, writing inspirational books and giving lectures. But the combination, the whole, is what makes me happy, and hopefully, inspires those around me. To exclude any of those parts would lessen who I am, lessen my happiness, and lessen the quality of the work that I do. And so I said no, and let that opportunity pass.
Those books have their own purpose, and will find their audience. I'm not worried about missing that deal, or about my career, because it's the choices we make and the actions we take that define us, and there are always going to be more opportunities to choose, as long as we haven't given away too much of our power by saying yes to too many of the wrong things, simply because we were afraid to say no.
So, if you didn't get that publishing deal, or agent, or contract, have a drink and celebrate – it might be the best thing that could have happened to you. Then keep going, keep writing, keep choosing. That's how it works.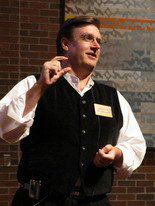 James A. Owen 
is the author of the Chronicles of the
Imaginarium Geographica
series, the creator of the critically acclaimed Starchild graphic novel series, and the author of the Mythworld series of novels. He is also founder and executive director of Coppervale International, a comic book company that also publishes magazines and develops and produces television and film projects. He lives in Arizona. Visit him at
HereThereBeDragons.net