A Guest Post by C Stuart Hardwick
What a piece of work is a man! How noble in reason, how infinite in faculty! In form and moving how infirm! In action how like a potato!
My first stories were played out in childhood, in the badlands and ghost towns of South Dakota, in tree forts and sandboxes, woods and bicycle trails, onto magnetic tape and 8mm movie film. We did not stop to create stories, we left them behind like breadcrumb trails leading back to alternate worlds.
Flash forward a few decades to when I finally decided to get serious about writing stories down. I was already married, with kids and a white-collar job. I was already suffering from a life of too much TV, too much office work, and too little sun. The last thing I needed was another few hours a week sitting in a chair, but that's just what you need to do to be a writer. What to do?
First, I set up a standing desk. I figured, standing's better than sitting, right? For two years, I did most of my writing at a laptop perched atop a high chest of drawers in my bedroom. I had to buy a rubber mat to keep from wearing holes through the carpet. I wrote half a million words that way. I went through my creative writing courses at Berkeley that way. I didn't loose any weight, but at least I didn't gain any.
Then in late 2012 several studies came out warning of the health effects of sitting. It turns out, not only do those cushy middle class office jobs make us fat, they cause potentially irreversible spinal curvature and stiffening, reduce hip flexibility, cause insulin overproduction, soften bones, obliterate posture, and cause deep vein thromboses and varicose veins. Oh, and they make us stupid.
See, humans didn't evolve in office buildings. We evolved on the African savanna, where we were marathon hunters. Sure, it's nice to have a comfy pad under our backside with a cup of jo and an air conditioner. It's comfortable. But it's not good for us. These studies were proposing something radical—we should get up and walk.
American's should ditch the office chair and switch to a treadmill desk they said. We could loose a few pounds a week just by walking instead of sitting, and address all the other health impacts at the same time. We are not evolved to sit around, nor to stand around, but to hike.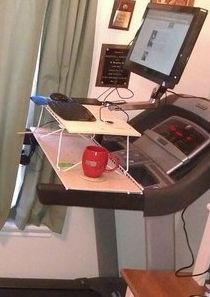 So okay, I decided to give it a try. Treadmill desks are stupid expensive, though, so I made my own. I put a laptop and $10 worth of wire shelving on a $600 Horizon T101 treadmill. I learned to touch type while walking at 2.2 MPH on an incline—just enough to barely crack a sweat. I started loosing weight.
After two months, I was so impressed, I decided to splurge on an upgrade.
I bought a dedicated workstation and bolted it to the treadmill with a monitor arm and a theatrical clamp (I blogged about it here: https://cstuarthardwick.wordpress.com/2013/08/03/upgraded-treadmill-desk-2/). My weight kept falling. In addition to the treadmill, I also started spending time on the exercycle as well, and I used MyFitnessPal to track my net calories. In six months, I lost 45 pounds.
But? There is no but. I felt great. I looked great. I thought great. Walking on the treadmill takes a certain amount of brainpower and I usually stop when working on something really mentally taxing, but it's highly conducive to writing, especially to finding and maintaining "the flow."
And then I went and hurt my leg and had to take an extended break. Now that I've started back up, I've worn out the tread and broken a siderail (stepping off to drink coffee), but that's okay. New parts are on order. While I wait, I'm taking advantage of the springtime weather, taking to the neighbor hood trails, and taking Kevin J Anderson's advice and giving mobile dictation a fair chance.
And that's good, because some new papers have come out suggesting that many of the ailments of modern Western society may stem from inadequate exposure to sunlight…
Take care of your body. The writing muscle can't work if the other muscles keep flopping over. We only get one stab at this life thing.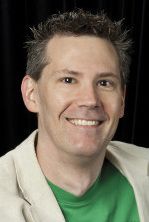 C Stuart Hardwick:
C Stuart Hardwick is an L Ron Hubbard Writers of the Future winner and a Jim Baen Award finalist. He writes scifi and fantasy, lives in Houston, and is married to an Aquanaut. You can follow him at www.cStuartHardwick.com, or on Twitter, Quora, or Facebook.