A Guest Post by David Heyman
"Honey, where are you?"
Physically I'm in the store with my wife, where she is asking my opinion of an item she's seen. In my mind though – I'm on a far-off snowy plain, trying to get my heroine out of the scrape I've written her into. This is the world of the writer and their family, and it's one I'm betting most of you are familiar with. Managing the scales between the time and energy we give to our writing and the time we give to other demands can be one of the more difficult challenges an aspiring writer can face.
It's commonly called the work/life balance, but for us it is a more complex beast – one more properly named a work/work/life balance. We all have lives that include family, friends, pets and the many activities that make life worth living. These are all wonderful, but they rightfully expect an investment of your time. Then most of us have the job that pays the bills, taking care of that rewarding life and keeping the road ahead of us clear. That job also makes demands on your time, demands that can be harder to negotiate with than Fido.
Now you want to add writing, but for most of us writing no mere hobby. It doesn't fall into the 'pursuits' section of that life category. No, writing for us is our second job – the one that might not be paying bills yet, but someday….
Something's gotta give – somewhere a sacrifice must be made.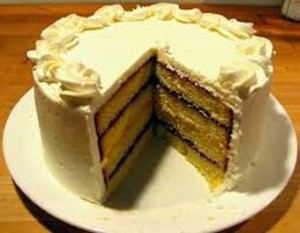 I always view my time as cake. I cut a piece of cake for my family, one for work and one for myself. If I want to write and that's going to use some of that available time, then someone's piece of cake is going to get smaller.
My advice: make sure you are the one making the sacrifice. Cut into your cake, not someone else's.
Want to write on your lunch break? Sure. You can bang out that scene while you have your sandwich. Write during that boring dial-in meeting where they never call on you anyway? No, that time is committed to the job that pays the bills. Writing after play time with the kids and TV time with your spouse? Sure, but discuss it with them first.
You are the one who wants to be a writer, the big time sacrifice must come from you. Video game time, Game of Thrones watching time, Facebooking time.
Your time.
I would caution not to take all of your time, though. Don't take away the sleep you need, or the time you exercise to stay healthy. Reserve some time for yourself to de-stress, to recharge and get the creative juices going again. Moderation is the key.
Each day is a cake that you choose where to make the cuts and choose the sizes. Your job, your friends and families all have their plates out, waiting to be serves a slice of your time.
How you distribute those slices will have a big impact on your support system going forward – and you will need that support to succeed.