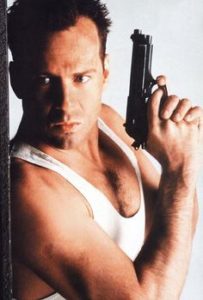 Welcome to the party, pals!
When I think memorable characters, I think of villains first. Because villains make the heroes. It's the villain's scheme that proves the hero's worth and skill.  A hero's purpose is to stop the antagonist. The stakes are almost always incredibly high, and the hero feels the crushing weight of the responsibility upon his or her shoulders.
Unless that hero is John McClane. (Not to be mistaken with John McCain. Ever.)
The best part of John McClane is that he doesn't want to be there. At the start of every movie, we glimpse our reluctant hero about to embark on a situation he doesn't want to be in, whether it be a Christmas party or another day without a drink.  His motivations are simple, and have hardly anything to do with what actually happens to him. The story of his life: the wrong guy in the wrong place at the wrong time. By the middle of each movie, not even God knows what he's doing. He's solving puzzles like who the 21st president was,  killing a helicopter with a car because he's out of bullets, and figuring out why Hans Gruber has such a horrible American accent. What do all of these situations have in common? His clothing that always gets increasingly dirty, and his lovable nonchalance. As he says in Live Free or Die Hard, "You know what you get for being a hero? Nothin'. You get shot at. You get a little pat on the back, blah, blah, blah, attaboy. You get divorced. Your wife can't remember your last name. Your kids don't want to talk to you. You get to eat a lot of meals by yourself. Trust me, kid, nobody wants to be that guy."
A ray of frickin' sunshine.
In Die Hard, NYPD cop John McClain flies to LA to attend his wife's company's Christmas party. The two have been recently separated, and John hopes to rekindle their relationship. Instead, he kindles a witty cat-and-mouse game around Nakatomi Plaza with German terrorist Hans Gruber (played by the incredible, late Alan Rickman).
John's Initial motivation: attends a Christmas party, tries to get his wife to love him again.
Final outcome: saves nearly everyone in the Nakatomi Plaza in Los Angeles, kills terrorist Hans Gruber and foils his entire plan, saves his wife Holly. Ho ho ho!
In Die Hard 2, the ugly stepsister of the Die Hard movie franchise, John's wife Holly finds herself in the middle of a terrorist plot (Again! What luck!) at the Washington D.C. airport. I'm not going to lie, I fall asleep every time I try and watch this one. Some planes crash, there's a news helicopter in there, Holly's okay, and that's the end. I think.
John's initial motivation: pick up Holly from the Washington D.C. airport.
Final outcome: McClane foils another terrorist plot, has a really badass scene where he lights a trail of fuel and blows up a plane, rescues Holly, again. Another basement, another elevator. How can the same stuff happen to the same guy twice?
In Die Hard: With a Vengeance, we find John a bit down and out. Holly's no longer in the picture (after all that, she just didn't like him I guess), and John's nursing the bottle. When a call comes into the NYPD and the caller specifically requests McClane, John must get himself together for a race around the city with the best side-kick ever, Zeus Carver, played by Samuel L. Jackson.
John's initial motivation: drink all day.
Final outcome: runs around the city with new bestie Zeus, saves an elementary school, meets super knowledgable construction driver, foil's terrorist plot, saves a bunch of gold, decides to call his fickle wife Holly. This stuff happens when you throw a terrorist's little brother off the thirty-second floor of Nakatomi Towers out in L.A. I guess he's a little pissed off about it.
In Live Free or Die Hard, the world becomes more technological, but John McClane is still who you'd want around when things go offline. A terrorist (shocker) recruits computer hackers to build separate parts of fire sail. When most of the hackers turn up dead, the remaining hackers are left to figure out what they've all built. It's one hacker's lucky day because it's John's job to keep him safe.
John's initial motivation: just wants to stalk his estranged daughter in peace.
Final outcome: McClane gets America (back) online, begins repairing relationship with daughter, foils and kills terrorist. McClane is a Timex watch in a digital age.
In A Good Day to Die Hard, John now has to repair his relationship with his son Jack, who just so happens to be under arrest for an assassination attempt in Russia. This movie takes place in Russia. It's difficult to count this movie because the other Die Hard movies are as American as John McClane drinking apple pie-flavored moonshine.
John's initial motivation: wants to see what's going on with his son in Russia.
Final outcome: almost blows up the Ukraine with uranium. Oops! But also foils the Russian terrorist and reunites with his son, Jack. They're not a hugging family.
What I've learned from a nearly 30-year love affair with John McClane is this. Your hero doesn't always have to be willing. Sometimes, that's exactly what will make your readers love him more. He can be the wrong guy in the wrong place at the wrong time and still kick some major butt. Giving your hero a strong personality and a little reluctance can be a recipe for one of the most memorable heroes of all time.