There is a 'special sauce' when it come to making group dynamics work and having an effective writers group requires its own special brand of nurturing.
I've been a member of the Imaginative Fiction Writers' Association (IFWA) for several years and I value every moment spent with this group. Founded in 1988 (yes, as of this writing it has been together for 29 years!) IFWA has nurtured, trained, and supported many writers along their writing career paths.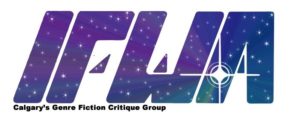 What is IFWA's secret to success?
There are several factors but my favorite four (besides the fact that the members are awesome people) are:
1) It is not a book club. It is a writing group for writers who want to improve their craft and hone their skills.
To that end, the monthly meeting begins with crits. In the previous month, two people volunteered a work to be critiqued at teh curernt meeting. The work is no more than 5,000 words and usually is either a first chapter or a short story although we have had epic poetry. Two people volunteer to provide a a critique. There are rules for how to critique. To learn more about the art of critiquing, you can read Part 1, Part 2 and Part 3 on a series I wrote on critiques.
The critique porrtion of hte meeting begins with the author reading their story for ten minutes (a necessary skill we all need to practice). Each person critiquing the story gets five minutes to give the author feedback. An opportunity is given to the author to respond and only then is the group at large allowed to provide their feedback (for five minutes) to the author. These guidelines are strictly enforced.
The first time I experienced this process, it was nerve wracking. I read too quickly because I wanted to read the whole story in my allotted ten minutes. Mistake! So, I learned how to read calmly and more slowly. The second time it was much better. Some comments I agreed with and others I didn't but I had to practice what I knew in my head – that there were things I needed to hear so I could learn them; that everyone has their own opinion and if you ask for it, you have to respect it, no matter what you do with it; and people are much kinder, much gentler than that stupid critic in my head!!!
That's the thing, everyone in this group offers insight and wisdom, from a reader's perspective and a writer/editor's perspective on how the story can be improved. We do it from a genuine desire to see each other succeed. And we run the gamut of skill sets for our members include professional writers, editors, and beginners. No matter what stage any of us are at, we all have something to offer and something to learn – and we know it! This form of humbleness is the group's core value and that's why I think it's been successful for so long.
2) The group isn't exclusive.
We have every form of writing (screen, short story, novel, novella, graphic art, comic, etc.) and although we are a group for speculative fiction writers, we have lots of other genres and cross genres represented (fantasy, science fiction, horror, thriller, detective science fiction, noir, space opera, and fairy tale to name a few). Some members are published, some edit anthologies (and write too), some are not published. But we are all there with a view to encourage and support each other while encouraging growth in craft and business skills.
Then there are the splitters groups. Splitters groups are formed by members who have specific interests or needs. For example, I belong to a critique group which comments on novels and shorter works with a view to being submitted.
Our members are at all stages of development, including beginners, those trying to break into the market, and published and award winning authors. The group also counts many small publishers and well-known authors as friends.
3) A pay-it-forward attitude is practiced within the group and the larger writing community.
We help each other out with our projects. We share what we know. We organize writing events such as a writers' weekend, workshops, manage a short story contest, produce an anthology exclusive to the group, attend and participate in national and international cons, and are a large part of organizing and volunteering in the local, annual con When Words Collide. We attend each other's book launches, readings, and celebrate the victories of getting published and share the disappointment of a rejection. We are there for each other.
4) Skills sessions.
Every meeting has a skills session which can be on any aspect of writing from craft to business. Sometimes the learning comes in the form of a presentation, sometimes it's a discussion, and sometimes it's a little of both. But always we learn, always we share and after the meeting that sharing continues at a local pub.
IFWA has a lot to offer its membership because it's members contribute in so many ways. The group's enthusiasm is infectious and the friendships are long lasting. This writers group definitely has its own brand of 'special sauce'.