Picture this: (Because I saw it on Facebook a few days ago, and now can't find it.)
Two short, wooden tracks for marbles. One starts high and flattens out, the other looks like a roller coaster with up and down bumps spaced perfectly apart. A marble is released at the beginning of each track. The first performs as predicted, the marble rolls down and to the end, losing momentum as it goes. The second surprises me. The marble goes down, hits the bottom of the hill and goes back up. Once up, it thunders back down, only to go up again. While it loses some momentum going up, the down hills keep it going. And, it makes it to the end before marble #1.
I feel like this is the perfect analogy for the momentum of my own creativity.
I always start out excited, barreling down the hill with all of the purpose in the world with the wind whipping through my hair and sunshine on my face. This can go on for a day or a week or a month, but eventually, the "something" occurs. It can be plot problems, it can be life problems, it can be family problems, it can be day job problems…the list goes on and on.
At this point I have to dig in. My momentum has waned, and the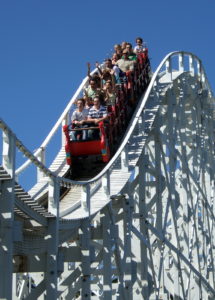 only thing to do is pull out the good old hard work. Sometimes it takes wading through plot problems for a week before I can get going again. Sometimes it takes ignoring the book for a while. Sometimes it takes forcing myself to sit in my office chair and write for an hour, even if it is total crap. Sometimes it takes doing every chore in the house so I don't have an excuse to mess around anymore. Sometimes it takes all four and then some.
During this I usually feel things getting easier again. I crest the top of the hill, panting because going uphill is hard, and stupid, and look around. Before me I see my path and I am once again excited. I step off and it all starts over.
Back to my analogy. Not only does the roller coaster marble end up with more momentum, it actually goes farther than the other one. And, it gets there faster.
So if you're feeling a little bi-polar about your creative process, remember that not everyone is the same, and maybe you're a roller coaster creator, like me. Or maybe the long, slow burn process is your game. Either way, figure out how your process works and then figure out how you can make it work for you.