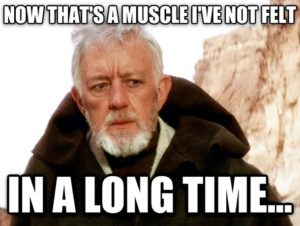 For the last decade, with life after college and kids and long hours of building a career, I put some other things on the back burner, like my health. Occasionally, I'd get sick of fast food and energy drinks and commit to a diet. But they were always short lived. More recently, I faced the music. I got a gym membership and a gym bag and changed my lifestyle. Now, I work out.
At first it sucked. I hated it. I told myself that i didn't have to do much, just show up. It was okay to even just get in the pool and float. Every day I added a little more to the routine. After a week I started making it hurt. Then I got a personal trainer and things really started to hurt.
Now, two months later, it's every day. I've got my routine. My stays of 15 minutes before now extend to an hour or more. And it's shown. I've lost 30 pounds. I've put on some muscle. And I've got plans to lose a bit more. I've got momentum. I enjoy my mornings. If I miss my routine, it nags at me the rest of the day.
Writing isn't any different other than it is undoubtedly more enjoyable than lifting weights. Just about every article this month, (and there have been many wonderful articles) have mentioned the importance of writing daily. Start off slow, just a few words. Join the 100 club:  100 words for 100 days. Reality is, that more often you write the easier it gets to tap into your muse. 100 words isn't anything.
Many can write 1000 words in an hour. Do that every day and after 3 months, you've got a novel. That's one hour a day for 3 months. Easy peasy.
While working out I struggled to write. It was difficult to find the time where I'd spend an hour at the gym nearly every day. I listened to several novels through Audible, but couldn't find time to write. Until a couple weeks ago I started with just a few minutes everyday after my workout session, writing while eating breakfast. That has expanded now and soon I expect to produce at least 1000 words a day. So check back in with me in a few months to see when that novel will be finished. I've got me some momentum.
I live in Arizona with my family, wife and five kids and a little dog. I write fiction, thrillers and soft sci-fi with a little short horror on the side. I hold an MBA and work in finance for a biotechnology firm.
I volunteer with the Boy Scouts, play and write music, and enjoy everything outdoors. I'm also a novice photographer.
You can read some of my works by visiting my Wattpad page and learn more at www.jacekillan.com.