I'm preparing this week for my first, I hope of many, Labor Day journeys to Dragon Con in Atlanta. Dragon Con is a huge convention and the largest venue I've ever attended. I'm lucky, now. I've snagged my first writing contract and WordFire Press and Bard's Tower do most of the heavy logistics for me, but it wasn't always that way. Only a few short years ago I was scraping together the money I needed to pay for a booth and buying stock to put on the shelves in the hope to make enough to at least pay for my room and meals. So, it's a pretty good time for someone to ask me about the con circuit, whether or not it's worth all the sacrifice, and to weigh its pros and cons. The conventions are amazing experiences that have been indispensable to my career and are too important not to do. I'm not just talking about the big shows. To paraphrase a favorite movie character "Judge them not by their size". The commercial success I've had to-date can be traced directly to the smallest con in sales and attendance at which I've ever appeared. 
The 2015 Necronomicon here in Tampa only expected a paltry twelve hundred or so, but I was already experienced enough to know that every opportunity to get out and mingle among potential fans and colleagues was one to be taken, especially if it was affordable and meant no traveling. Every time I go to these things, great or small, I take something away: a business tip or story idea or that ever-elusive serial reader. So, I went to Necro with the same excitement with which I go to every con. I didn't make a ton that weekend, though I do recall a vendor next to me that still likes my Facebook page and follows my work, but I did make the acquaintance of a certain You Tuber/author interviewing artists and other folks at the con. My interview was a short affair, just ten minutes or so, but this You Tuber/author and I really hit it off and became friends and mutual business contacts.  
Two months later, Garrett Pomichicter gave me a guest spot on his on-line interview with Alan Dean Foster. A month after that, he introduced me to this fantastic publishing company out of Colorado called WordFire Press. I volunteered for them and met the great Kevin J. Anderson, Dave Butler, and Alexi Vandenburg. I did as many shows as I could with them. I learned the importance of being a good salesman and how to pitch a book. I was able to pick their brains about the business and made some friends along the way. I also put my books in people's hands. 
Today, one of those books, Lunatic City, is a WordFire Press release that sold out at its debut at Tampa Bay Comicon 2017. I'm working diligently on edits and rewrites for its sequel in the hopes of a 2018 release. One of my WordFire colleagues and friends, Dave Butler, talked me up to another publisher, Chris Kennedy of Seventh Seal Press, looking for military sci-fi writers interested in contributing to one of his Four Horsemen Anthologies. My ten-thousand word short story, Hero of Styx is unofficially slated to be released in a book titled The Good, the Bad, and the Merc later this year. And, I'm about to go to Dragon Con, one of the largest, most prestigious conventions in the Southeast. Who knows who I may meet or what opportunities await there? 
So, when fledgling writers ask me: "Is it really worth it to go to all those cons?" I ask them, "Can you afford not to go?" Cons are tough, they're a lot of work, and, if you do it right, you go home sore, mentally exhausted, and without a voice. But, every handshake, every interview, every person you meet is an opportunity, an opportunity you will never get sequestered up waiting for someone to trip over your manuscript, no matter how good it is.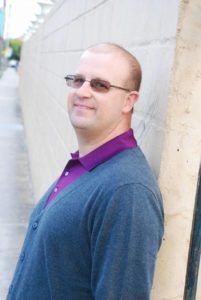 T. Allen Diaz is the author of speculative fiction, including the dark space epic series the Proceena Trilogy and his gritty, moon-based noir, Lunatic City. He lives in the Tampa Bay area with his wife and three kids where he has lived for his entire life. Follow him on Twitter as @Proceenawriter and Facebook at https://www.facebook.com/T.AllenDiaz where you can stay up-to-date on all of his latest news and events.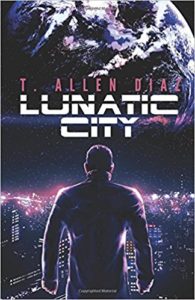 Amazon Link