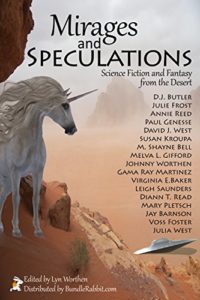 Setting is a crucial part of storytelling.  Setting affects the story in many ways.  What challenges do the protagonists face from nature and their environment?  How has the landscape shaped the culture of the people who live there?
There are some common tropes for fantasy and sci-fi stories.  Fantasy stories are often set in a parallel version of medieval Europe, with small villages, walled towns and thick forests to traverse.  Sci-fi stories are often set on gleaming high-tech space stations.  There's nothing wrong with these settings, of course.  Sometimes they suit the story perfectly.
But an unexpected setting can result in an unexpected kind of story.
Mirages and Speculations is a fantasy and sci-fi story set in a different kind of landscape:  the desert.  Think wind-swept plateaus, scorching sands, and arroyos.  Come discover if that glimmer on the desert horizon is a lake, or the gleam of light off the side of a flying saucer.  If those swirling clouds are dust devils–or djinn.
Seventeen authors of science fiction and fantasy take you into worlds both futuristic and fantastic under the desert skies.
You can order it as print or e-book from Amazon here.