A few months ago I wrote about how I outline my novels. If you missed it you can find it here. I've used this process for multiple novels and it has yet to let me down. Well, as I worked on the second book on my series I realized that there is one thing that this format doesn't allow for: seeing the big picture.
Normally I'm only working on one novel and only one novel so it's pretty easy to keep the big picture in my mind as I work. But I realized that with this series I'm not writing just one book. (I know. I'm a genius.) I was having problems figuring out how to pace the character arcs throughout the series. How far was too far? I can't let them progress too quickly. That doesn't make for a satisfying ending. But if I go to slowly I have to rush it and that's not satisfying to the reader either.
The obvious solution is to outline the rest of the series. While that would work it wasn't something I can do. I know my subconscious. If I outlined every book my pesky subconscious would come up with something awesome that would change the course of the rest of the series. I'm not going to go to all of that effort if I'm going to have to redo it later. I was really at a loss for how to proceed. So I sat down with one of my awesome mentors and talked it over with them (Thanks, Diana!). At her suggestion I wrote out what I knew had to happen for each of the remaining books — and I do mean everything. Plot, twists, and character development. Okay, I know some of you are thinking, why did I plot out the books when I didn't want to do that. Well, I didn't. I plotted out the pieces that I knew had to happen to bring about my desired ending. For some of them I only have five notes but it was something and in the end it helped.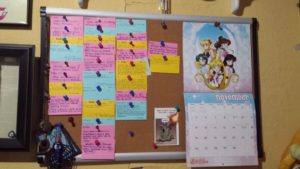 (Yes, Sergeant Schlock is shooting Sailor Moon.)
In order to better visualize what I had I used 3X5 cards in different colors. Each POV character got their own color card. What you see above is the outline cards for book two. I wrote on each card what that character accomplished in that particular chapter — whether it was plot related or a personal development or both. Once I had everything that I knew in front of me it was pretty easy to put events in order and figure out what books those events needed to happen in. When my subconscious surprises me, and I have no doubt that it will, I'll just add new cards to reflect those changes in the later books and put them in their place.
I'm very much a creature of habit. Especially where my writing is concerned but sometimes new challenges can get me out of that rut, and bring new, helpful techniques into my life. I never thought of myself as a visual person but at least in this I seem to be. If you find yourself in a similar situation and the difficulties seem too much, try a different approach. Maybe the new angle or process will make the solution clear.