Today is a big day for a few of us here at The Fictorians. Today, WordFire Press publishes an anthology that many of us are featured in! Read exciting stories from Gregory D. Little, Mary Pletsch, and Kristin Luna in Undercurrents: An Anthology of What Lies Beneath!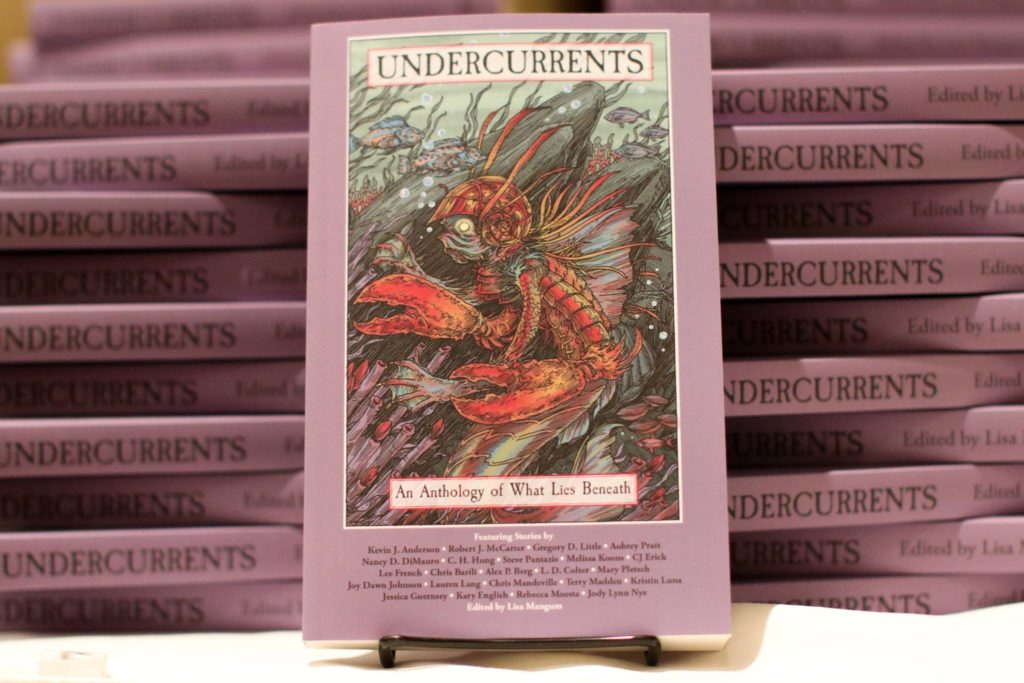 All of the proceeds of this anthology go to the Don Hodge Memorial Scholarship which helps new writers afford to go to Superstars Writing Seminars, a yearly conference in Colorado Springs which teaches the business of writing.
Undercurrents: An Anthology of What Lies Beneath
Fear is primal. Instinctive. Unavoidable. And right now, there is something you fear–and you can feel it. Creeping up behind you. Lurking in the darkness that lives under your bed, or in your closet. A nameless dread.
In Undercurrents: An Anthology of What Lies Beneath, twenty-three talented authors, including New York Times bestsellers Kevin J. Anderson, Rebecca Moesta, and Jody Lynn Nye, have stood on the shores of their psyches and looked out over the ocean of possibility and wondered "What lies beneath?"
The sea creatures and sea monsters that answered their calls range from a giant kraken that rules the deepest ocean to the smallest puffer fish that creates intricate works of underwater art. Creatures of classic mythology–mermaids, sirens, and sea serpents–swim alongside more unusual beasts–underwater cats and singing whirlpools. These stories dive deep into the fears many of us face, including loss, abandonment, death, and physical, mental, or emotional danger. When the fears we keep buried beneath the surface rise up and threaten to consume, we must make a choice: conquer or be conquered.
This anthology is the fourth volume produced by the alumni of the Superstars Writing Seminar, and all royalties benefit the Don Hodge Memorial Scholarship Fund.
The anthology is now available online with all major book retailers. You can order your copies here:
More information about the book: https://books2read.com/u/bMrOoV
Thank you for your support!