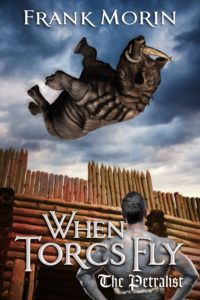 It seems we don't get nearly enough days to celebrate a completed project. We work for weeks, months, and sometimes even years to release a book worthy of our fans. The celebration is never big enough or long enough, but there's nothing like holding a new book in your hands (even if it's a kindle copy).
Today is a celebration day!
When Torcs Fly – a Petralist novella – released in ebook form Marcy 30th!
It will release in paperback in May.
Tomas and Cameron enjoy good insults as much as they enjoy great bash fights. These elite fighters and determined goofballs have an unbreakable streak of disrespect and contempt for authority. Even the mighty Captain Rory depends on them.
Their places were not always so secure.
Rewind a few years to the day they first try to win acceptance into the Fast Rollers special-forces company. Their brawn-over-brains approach is exactly the wrong way to make the attempt, and chances of making the team are less than winning a kiss from an angry pedra.
With their most cherished dreams on the line, these two bash fighters must risk thinking deeper thoughts, learn to work together against a band of crafty Grandurians, and prove they're smarter than the average torc.
Fans of fast-paced, humorous fantasy will love this hilarious adventure.
Check out When Torcs Fly, along with the main Petralist series on Amazon,
or on my website.