This month's Fictorians' theme is "movie adaptations."
I got lucky and snagged "Blade Runner."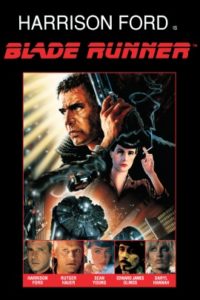 When Blade Runner came out, I wasn't paying attention enough to remember the obscure novella I had read at about the age of twelve. I was well into the movie before I put two and two together and realized I had read the source material. I remember thinking at the time, "When is he going to find that toad?"
That's pretty close to a spoiler, I suppose. There is no toad in the movie. I don't remember origami in the novella. Maybe there was some. Honestly, I didn't remember that much about the novella. I had read it during a period of my life that I was reading three or four sci-fi novels a week. Plus classics like "Gone With the Wind" or "Moby Dick." The novella simply hadn't made that much of an impression on me. I had to go back and review "Do Androids Dream of Electric Sheep" to realize just how far the movie had strayed from the original story. How far was that? Well, maybe not as far as the shoulder of Orion, but certainly well past the Tannhauser Gate.
So, since the movie is such a radical departure from the novella, you might think that would count against it as a "movie adaptation." But I can't say that, because "Blade Runner" the movie, is better than the novella. By a large margin, in my opinion. Ridley Scott took the basic story of a bounty hunter wrestling with the morality and mortality of "retiring" androids, and created a revolutionary multi-media experience, spawning an entire sci-fi sub-genre in the process.
There is power in the imagery of the film. The fusion of film noir and dystopian post-apocalyptic pathos simply oozes gritty, bloody, sweaty authenticity. By abandoning the original sub-plots involving Deckard's wife (yes, wife) and their search for an animal of their very own, Scott was able to focus his grimy camera lens directly on the question of what makes us human. That gritty, shadowy vision paradoxically grants the movie near-perfect clarity.
That clarity reaches its climax with Roy Batty's iconic farewell, sometimes known as the "Tears in Rain Monologue."
I've seen things you people wouldn't believe. Attack ships on fire off the shoulder of Orion. I watched C-beams glitter in the dark near the Tannhäuser Gate. All those moments will be lost in time, like tears in rain.

Time to die.
Like all great works of art, the movie has an ambiguous ending, allowing the viewer to decide for themselves what Deckard's and Rachael's future will be. The viewer isn't even certain if Deckard himself is a human or a replicant. And that is the movie's ultimate message. In the end, it doesn't really matter. As Roy tells us, the value of life is not measured in the number of years we are given, it is measured in what we do with the years we have.