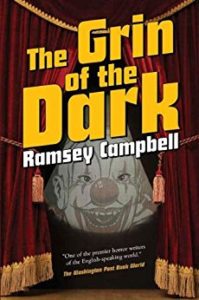 Anyone who spends enough time talking to me about books knows that the books that really blow me away are those that show me something I've never seen before. They tend to be a little (or a lot) weird and while they often enjoy a cult following, their oddness keeps them away from mainstream success.
I can't remember what convinced me to pick up The Grin of Dark, by Ramsey Campbell, but it quickly wormed its way into my consciousness. The book centers on Simon, a disgraced film critic determined to win back his pride–and, he hopes, the approval of his girlfriend's parents–by writing a critically successful biography of Tubby Thackeray, the world's greatest comedian during the silent film era, now relegated to barely a footnote.
It doesn't sound like much, right? But though it may not sound like it from the description above, this book is a deeply unsettling work of horror.  In his quest to uncover Tubby Thackeray's history (did I mention Tubby was a clown?), he discovers fragmented accounts of people literally laughing themselves to death at his live performances. Bits of film Simon watches leave him deeply disturbed. It becomes apparent to the reader, if not to Simon, that Tubby's history has been erased for a reason.
In his research online, Simon runs afoul of a troll whose typo-ridden posts challenge every point he tries to make (about ten years old now, the book's use of the internet is dated in some ways but still perfectly relevant in others). As he pours himself deeper into his research, Simon begins experiencing strange sounds and sensations. He begins misspeaking words, sometimes the same words that his troll-nemesis does in his antagonistic posts online. He garbles sentences in ways that will maximally offend those he is speaking to, even his closest loved ones. It's as if some force or entity is gaslighting him, scrambling his perceptions while convincing him that things he was previously sure of never happened. It's all deeply creepy,  and that's before the typos begin appearing in the narration of the book themselves.
It happens slowly at first, so slowly that I assumed the first few were honest mistakes that slipped through editing. Regrettable, but it happens. Yet as Simon's paranoia mounts and his behavior grows more erratic, mistakes trickle into the narration with greater frequency. Every face Simon glimpses in the street is suddenly hostile, every comment pregnant with hidden animosity. He is persecuted from every side, the whole world out to get him. Simon is being driven insane by a darkly comedic force of great malice–or maybe by his own crippling sense of inadequacy–and the book makes the reader feel that shattering of reality with disquieting power.
As Simon's life unravels around him, the world makes less and less sense. He can't believe anything he sees or hears. This is a book that will stick with you long after you read it. And now I'll recount a little anecdote to you. I pulled the book down off my shelf to reference in writing this post. I went to look up some of the typos I wrote about above, hoping to quote a few to show you what I meant.
I couldn't find any for the longest time. Despite having read the book twice, I was genuinely starting to wonder if I'd imagined them, so much so that it was a huge relief when I finally did find one. I'm… going to put the book back on the shelf now.
About the Author: Gregory D. Little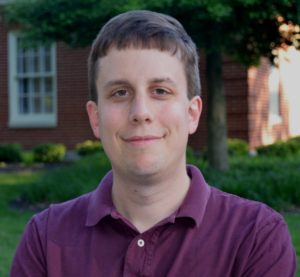 Rocket scientist by day, fantasy and science fiction author by night, Gregory D. Little began his writing career in high school when he and his friend wrote Star Wars fanfic before it was cool, passing a notebook around between (all right, during) classes. His first novel, Unwilling Souls, is available now from ebook retailers and trade paperback through Amazon.com. His short fiction can be found in The Colored Lens, A Game of Horns: A Red Unicorn Anthology, and Dragon Writers: An Anthology. He lives in Virginia with his wife and their yellow lab.
You can reach him at his website (www.gregorydlittle.com), his Twitter handle (@litgreg) or at his Author Page on Facebook.