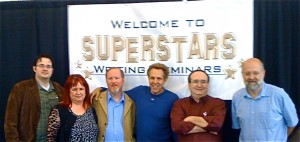 Hello, intrepid readers, this is Leigh, and I'd like to welcome you back to the Fictorian Era's Superstars Week! For the last two days you've gotten an idea of what you can gain by attending the Superstars Writing Seminars, but today, Nancy, Clancy, and I will be telling you why we felt the need to go back for more. Yes, all three of us are Repeat Offenders, having attended both previous seminars.
So, why return to a seminar you've already attended?
For me, there were a number of reasons, but today, I'm going to talk about how, by returning to the Superstars Writing Seminar, you're not just revisiting something you've seen before. The seminar is dedicated wholly to learning the writer's place in the publishing industry. And let's face it, people, that place is changing fast. This seminar is a true insiders look at what any writer looking to make a career publishing can expect, and the options available to get there.
As an example, in the first Superstars seminar, we had the core five authors, Kevin J. Anderson, Rebecca Moesta, Eric Flint, Brandon Sanderson, and David Farland. Across the board, they said that traditional publishing was the way to go. Then, Amazon unveiled their e-publishing program. Self-publishing wasn't the pariah it previously was. The next seminar dedicated an hour to self-publishing and e-books. As part of that panel, Moses Siregar, a previous Superstar attendee, had a heated discussion with Eric Flint over e-publishing, and David was heavily leaning toward self- publishing. Since then, David's written a post on this very site stating that he believes self-publishing to be the future of the industry, and this year, Superstars has brought in Kristine Kathryn Rusch and Dean Wesley Smith, two vocal authors on indie publishing issues. Clearly things have changed, and Superstars is keeping pace.
Yet, as with any seminar, there are portions that are repeated every year, but as Clancy will tell you, even that can be a good thing.
*              *              *
Clancy here. And here's why I'm a repeat offender: I signed up for my second Superstars seminar unsure if I would hear much that I hadn't learned the year before. But I wanted to meet Sherrilyn Kenyon (a guest speaker) and see my alumni buddies, so I decided to go. Color me surprised me when I learned as much, if not more, as I did the first time. During the year between the two events, I had changed. Where I was with my writing and my career had also changed, and I was hearing different things even though much of the content was similar. My mindset tuned into completely different points made.
I wanted to give you an example, but I can't think of one.  I know… challenged.  Anyway – I remember sitting there during a presentation that I'd heard before and thinking to myself, I know they discussed this last year, but I was hearing the content through a different filter and what caught my attention were not the same things that did the year prior.  I wish I had an excellent example to share.  Just know that it was a profound 'a-ha' like realization.  So, I wish I could go again this year because I know I would, yet again, learn more and different things than I have already.
Read on to see why Nancy is right and the contacts and friends I have made during both seminars are still with me, still in contact, and are still impacting my life in ways I will forever be grateful for.
*              *              *
Nancy Greene, on the issue of "Contacts and Kismet": We attend conferences to make contacts including the conference speakers, vendors, and participants. I confess to being a Repeat Offender at Superstars Writing Seminars for all the reasons you've heard about over the last few days and for the people I meet.
Approximately 20-30 attendees at the 2011 Superstars were Repeat Offenders. I'd guess the number is about the same for April's session. The Superstars crowd isn't cliquey. We go out enmasse. The "we" is the Repeat Offenders, one or more of the speakers, and anyone we can convince to join us. Dinner and late night drinks at the hotel bar are similar affairs. Because we're a social group, there's a lot of extra time with the speakers, which is something that often doesn't happen at other conferences. The social aspect's a great way to forge long-term friendships. After all, we're all writers, and can help each other after the conference ends.
I've written about the benefits of writers helping writers before in the Benefits of Holding Hands on this blog. Because of Superstars and the friends made there, the Fictorians have:
(1) Participated in this blog (all members are Superstars attendees),
(2) Received weekly encouragement and accountability checks,
(3) Received advice and critiques from some of the presenters,
(4) Edited or beta read novels written by the presenters,
(5) Assisted other Fictorians in getting short-stories published,
(6) Been introduced to other fabulous connections, including agents and publishers, and
(7) Advertised or promoted the other writers on the site.
The list contains the things I can think of off the top of my head. There's more.
The writing industry is small. The way to "break-in" is to have a great product, and an even better network. We might have made the contacts and achieved the same results without Superstars, but the process would've probably been years longer.
Kismit happens.
But you have to ensure you've done your work and made the contacts you need to be "in the right place at the right time." Superstars is an excellent place to make those contacts, and it's why I'm a Repeat Offender.
So, if you're a Repeat Offender, feel free to let us know why you keep going back to Superstars. And everyone should stick around for tomorrow and Friday  for a two part interview with two of the founders of this fantastic seminar, David Farland and Kevin J. Anderson. See you in April.