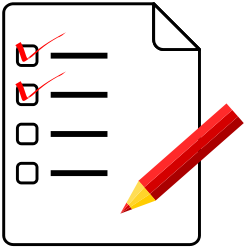 Did we make it? Did we survive the June heat and the mid-year failures or successes? I learned a lot and got reminded of more. So for me, this was a good month… on the Fictorians and in achieving my personal goals. If you missed anything, here's a quick summary with links.
Evan discussed health and writing and finding a balance between the two which I am always in need of rem
inders about since staying healthy for me usually means trying to avoid the potato chips.  Guy showed how to take our writing with us when we're out enjoying the summer. As he said, not typing doesn't mean you're not working. Creativity takes a lot of thinking and observing life around us.  I reminded us all that sometimes we have to say No to other things so we can achieve success in writing and in life. Being stressed out about being over-committed is no one's friend.  Nancy shared some tools for organizing our complicated and busy lives.  And who can't use better ways not to drop all those balls we're juggling.
Sherry gave us insight into her thought process on deciding to self-publish and then how she succeeded at it.  I know I'm reading her book on Silencing Your Inner Saboteur and getting a lot out of it.  I loved Frank's Go Big or Go Home post.  We have to take big risks  to get the big rewards. And Brandon's discussion on how your environment can impact your productivity resonated as I have been displaced from my office for weeks during some construction work being done on my house. I liked Mary's take on how despite having health challenges, we can be productive if we play to our strengths when we 're strong.
Ace gave us some ideas on ways we sabotage our goals and ways we can score with them.   Quincy's post on sacrifice and being in writing for the long haul reminded me that if we just keep at it, we can be a success. And it is a grind, but a worthy one. I found Lou's post funny and true.  Focus, discipline and being consistent are key. Colette reminded us that we can get away from the summer heat by attending a cool Con.  James showed how tricky setting reasonable and attainable goals can be.  Jace showed how recalibration is just needed sometimes to get going again.
My dear friend Kelli Ann gave some concrete tools for taking any derail and getting the train back on the tracks. I loved Kristin's post on how we all fail, but that doesn't have to define our success.  Kim talks about using good planning skills and realistic expectations to keep us productive and sane.  Nathan makes a great point in that what we choose to do with our time is a statement of value. As I'm heading off to a four day writing retreat, this was an affirmation of what I'm doing with my life and career.  And after watching the video of Jim Carrey's speech (all 28 minutes), feed your soul , folks! It was completely worth it. I found Tristan's post on reassessing goals refreshing. He had a lot of goodl ideas on looking at goals that were helpful. And finally, John's post on consistency speaks to a variety of types of consistency, all of which are important.
I hope you enjoyed the month and got as much out of it as I did.