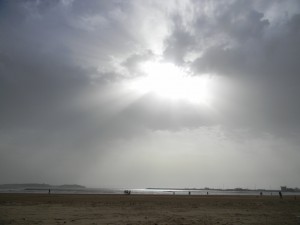 I'm sitting on the beach in Essouira, Morocco. No bikinis dot the Sahara-red sand. There's just kids playing soccer, tourists declining barkers carrying silver trays of delicate sweets rebaked in the afternoon sun and camels carrying giddy riders through sea side dunes. Surf's high – so high the pulsing ocean is blood red with a ribbon of frothing foam and the sea monster's mouth snaps shut on the shore. A shard of light spears roiling storm clouds. Awestruck, I gape, ignoring the stinging sand in my eyes and the salty spray turning my hair prematurely white. I want to fall to my knees in reverence knowing that if I wasn't a child of science, this moment would be my moment of truth because I've seen the Angel. From this point forward, my writing would no longer be of fantasy but of prophecy and revelation.
Walking through the Medina, with store keepers cooing enticements of shared tea or special deals for pretty women or special Berber massages, I'm reminded that I'm not simply the observer, I'm the alien being observed. No matter how modestly I'm dressed, how respectful I'm being, I'm still a foreigner in a country where I don't speak the main la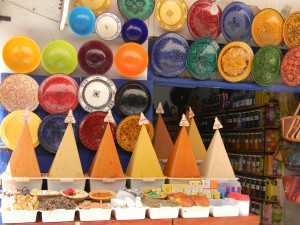 nguage. And I love it. I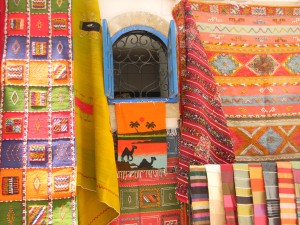 laugh at the offers, banter with the best all the while noting my reactions and theirs.  But then I've had enough. Enough of the smells of sweet spices teasing my nostrils which have just been assaulted by heaps of raw fish. Enough of chickens squawking while docile rabbits nibble grass in the butcher's stall. Enough of brightly colored linens carefully displayed, leather goods spilling into the street, metal workers hammering out bowls. Enough of watching the ebb and flow of tourists pushing, vendors enticing and arms desperately flailing about to secure a good deal.
Alienness overload. That's what this is.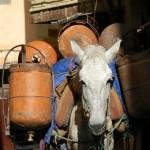 Somewhere deep inside, we all try to understand the alien within ourselves otherwise, we wouldn't be writing fantasy. But writing is a safe way to practice the alien experience vicariously through the new worlds we've built, through plot twists and every character's angst. Sometimes it's too safe and our writing suffers for it. When we're too familiar with something, we lose the rawness of wonder. We need to remember that rawness, that excitement and fear when our character enters a new world. We can't let our familiarity overshadow the character's experience.
That's why I like to travel to countries where I don't understand the language and the customs are totally new. It's raw. It's exciting. Sometimes it's overwhelming. But always, it reminds me that my characters have their own points of view about the world they're experiencing. I know that when something so familiar to others is so new to me. It's safe but it isn't. It's fun but it's scary. It's awesome and it's overwhelming. Those feelings are what I must hold on to because my characters can never be as comfortable as I am about the new world I've created for them.
I am their interpreter. Bringing their experiences to life on the page. Finding that raw edge, the vulnerability that makes them spin out of control or struggle for control in the alien landscape. I challenge them by committing the cultural faux pas which forces them to take desperate actions to survive.
Understanding the alien within never gets any easier – it only gets more exciting. Our need for belonging and security heightens our awareness yet when those needs are our memories of alienness drift away. So I travel the roads unknown taking care to note the alien nature, the creeping comfort of familiarity and to translate that to the written word. Somewhere in those gems of observations are not only the feelings my characters will have, but the sparks of ingenuity for inspiring deeper, richer worlds where angel swords pierce the heart, sea monsters snatch unwitting victims from the shore and someone falls in love with the alien.