Have you ever been out and about and something, could be anything, makes you think -ooh, that's a cool story idea?  Did you write it down, note it in your phone, leave yourself a voicemail about it… anything… so you don't forget?
You should.
I was in my local used book store and the clerk looked perfect for a romance hero.  I told him and he let me take a picture that I can now use that for inspiration.  I love that.  Sometimes, my boyfriend actually tells me things I think are perfect for a romance hero to say.  Yes – I write them down and save them.  They're gems.  It could be a piece of dialogue you overhear, a character (literally and figuratively), an outfit, a setting, a feeling, a mood, a reaction, a hairstyle, a building, a show, or any of a million other things.
I hear a lot that ideas are cheap and this is true.  I wrote about it in my post Ideas are Cheap and Everywhere.  Now, I'm telling you… write them down!
We're writers… it shouldn't be difficult  🙂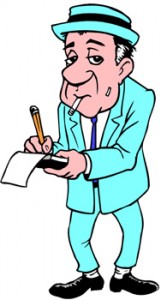 Take note because you never know when that idea will inspire something great.  Someone told me they only wrote them down if the idea wouldn't go away.  I can see that.  If it's persistent, then maybe it's really good.
BUT, what if that tiny little nugget of an idea – like the enormous icicle hanging on the tree outside my window falling on someone's head and creating a seemingly weaponless crime once it melts – is interesting to me today but when I look at it in a year, it inspires my next book?  You just don't know.
I think if you have a fleeting idea, picture, scene, character – whatever – jot it down and every so often pull those notes out and look at them.  You just never know when a random little seed idea will spawn a complete freakin' tree.
You have nothing lose, Fictorians, and everything to gain.  Write it down and see what happens.  Anyone already had this happen?  I'd love to hear.