The parade of quotes continues!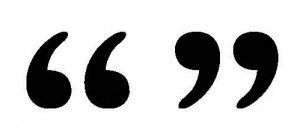 If you enjoyed your cup o' tea or genre cookie in Part One, check out the following snippets from more of our very best guest posts. Once again, we've got some great authors who have shared not only their insights, but an awkward moment or two-even hate mail! I cringe at the thought.
Don't forget to come back tomorrow, when we'll be talking about the exciting recent fiction releases from our very own regular Fictorian contributors. Until then, click a few links!
*          *          *
Because I DIDN'T say yes to what seemed a sure thing and reasonably easy money, I had to find another way to raise funds… The struggle turned into prosperity, because my choices never wavered. That's how my synchronicity works. There's no elusive pattern that creates success; it's the benefit of following a straight line. (James A. Owen: How Synchronicity Works (for Me))
Yes, I said it. We experienced old-timers have a huge advantage. We have taken the years and decades to learn how to write better stories and we are all still working to learn… That's right. Shocking as it may seem, writing better novels and stories-stories that fans want to read-makes us better known. It is not promotion or some silly trick. We sell more because we write better stories. It really is that simple. (Dean Wesley Smith: Stop Being in a Hurry)
With a series, your backlist stays in print, your readers are loyal; they will forgive you a book that they don't particularly care for and look forward eagerly to the next book. People are drawn to a protagonist and they become loyal to him or her. (Gail Bowen, The Elements of a Good Mystery)
All fantasy readers, I would say, expect and desire the extraordinary in their fiction. They want not only the well-drawn characters, coherent plots, strong emotions, vivid descriptions, and insight into the human condition they could get from non-fantastic literature, they also want a "sense of wonder"-an experience of something outside the mundane world. (David D. Levine, The Wonder of Fantasy)
Rhythm may be obvious in a poem and not so obvious when it comes to fiction. How do you hear the rhythm when writing fiction? The same way one does when writing poetry. Read the piece out loud. Get into the habit of doing this. Look for the ebb and flow. If you do, it will help to carry the reader away on your words. (Bob Stallworthy, What Can a Poet Say to a Fiction Writer About Writing?)
Jump. Stop staring at the blank page, stop taking in the dizzying height and jump. When you first open the blank page, jump into writing as fast as you can. When I first start writing in the morning, I put my hands on the keyboard and start typing whatever comes into my head, (Rebecca Shelley: Facing the Blank Page)
There's a lot of difference between traditional publishing, electronic publishing, and self-publishing… So in order to avoid trouble down the line, it's important for an author to self-represent correctly-and, more importantly, to use the different avenues in publishing wisely, to build a foundation for a writing career. (Celina Summers: Different Paths to Publishing)
Today's readers would be horrified at "real" history-its filth, superstition, disease, and cost in terms of human suffering… genre fiction, set in brutal times or places may not be popular unless filtered through modern sensibilities and made more palatable. (Barbara Galler-Smith, A History Lover's Thoughts on Historical Research)
An agent must be organized, intelligent, multi-tasking, a good negotiator, have excellent time management skills, love books, know marketing and sales and be well versed in the mechanics of writing/storytelling/character development/plot/pacing and social media. He or she must also be relentless in keeping up with developments in publishing contracts, editorial taste and digital publishing. (Laurie McLean: Literary Agents in the New Publishing Era)
There is a perception among writers that tie-in books-that is to say books that are based in a universe created by someone other than the writer-are of low quality and reside in a kind of literary ghetto, … But these books can often add depth to a beloved universe… (Jordan Ellinger: Coming Up in the Trenches)
Build relationships so people begin to recognize your name. If the first post I see from you is promoting your book, all I will remember when I see your name again is that you only care about promoting yourself. (Mignon Fogarty: Social Media Mistakes That Make You Look Like a Newbie)
I think if people are looking to appeal to the widest YA audience, they need to be careful. You want your readers to be able to carry your books around like their latest obsession, which will grow your audience, instead of hiding it in a backpack where new readers will never see it. It think that's where BEAUTIFUL CREATURES got it right. Those books were show-off-gorgeous… (L.L. Muir, YA Romance: Niche Within a Genre)
You may or may not have seen this piece of advice floating around: those who can be encouraged to quit writing, should be encouraged to quit. (Brad R. Torgersen: On Not Quitting)
You only need to post what you want people to see, but if you post nothing personal, then people may not engage you. Today, people want to know who they are talking to. If you are interesting and engaging there's a good chance your social media profile will be checked out. If you post nothing about what you do or how to reach you, people will move on to the next person. (Brian Hades: Are You in the Business of Being YOU?)
While the past was historic, the present is amazing, and the future? Well, the future is anything you can imagine. So, don't be afraid to leap into a unique setting. A line from one of mine, "Every time the old grey cat meowed, Matilda T. Bartholomew was transported fifty five seconds into the future. It wasn't until he purred that she could restore her missing time, and PG Grey tips was a very crabby cat." (Julie Ann Avila, Once Upon a Fairy Tale)