A guest post by Kim May.
One of the most important skills a writer can develop has very little to do with writing. Nonetheless it can open doors into the professional realm that wouldn't be accessible otherwise and can provide vital insight to the industry. So what is this pivotal skill?
Networking.
Since most writers tend to be introverts who loathe departing from their sanctum of creativity, this skill can be one of the hardest to develop. Be that as it may, it's still important to know how because of the reasons I listed earlier. The old saying "it's not what you know but who you know" is just as true in publishing as it is in other fields. Think of it this way, a fisherman doesn't expect the fish to swim up on shore, walk on fin tip to the market, and place themselves on a bed of ice. They have to get in their boats, sail to where the fish are, and cast their nets.
So, who should you network with? Everyone. Whether you're at a book signing, a seminar, a convention, or at church, everyone you meet is a potential reader. That doesn't mean that you have to walk around with copies of your book(s) stuffed in your pocket but it does mean that you shouldn't be shy about your involvement in the craft. If no one knows that you write, no one will anxiously await the release of your novel. Of course, the most valuable connections you can make are with those in the industry: editors, agents, bookstore events coordinators, and authors. But that doesn't mean that you can afford to ignore the lady that shows up to every bookstore event or the man at the bus stop reading that book you love.
There isn't a secret Jedi technique that you need to master in order to be good at networking. I find that the best way is to just say hello and start up a conversation. If you're nice, and personable, chances are they'll want to read your book. It won't matter if you're book is Wheel of Time erotica, and they're a retired nun. If they like you enough they'll read it anyway.
Don't have a published work to promote? Promote yourself instead. It's never too early to build an audience. When someone asks what do you do for a living or what have you been up to lately, tell them "I've been writing a book. It's about (insert pitch here)." If they're interested, give them a business card so they can follow your blog/website. That way they can run out and buy your book the second it's available.
The one thing you don't want to do is to go on and on about yourself for half an hour. There's nothing wrong with sharing your experiences, and desires for your career. Where it becomes burdensome is when every turn in the conversation is directed by you, for you, so you can talk more about you. There's a fine line between promotion and bragging and once you've crossed that line there is no going back.
Once you've made a good impression, don't let it end there. Maintain that relationship. Say hi to them when you pass them on the street. If they invite you to an event, take them up on the offer because you don't know who else might be there. I've lost count the number of industry folks I've met while at the movies or out to dinner with someone I met at a signing. If I hadn't made that initial connection, I never would have met the people who have become an important part of my life.
So you see? It's worth leaving your sanctum, and saying hello to a complete stranger. That person may be the agent who gets you your first sale, or the future admin of your fan page, or your biggest fan. But you will never find out if you don't make the first move.
Guest Writer Bio: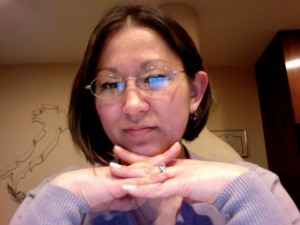 Kim May writes sci-fi and fantasy but has been known to pen a gothic poem or two. She works at an independent bookstore and dog/house sits on the side. A native Oregonian, she lives with her geriatric cat, Spud, and spends as much of her free time as she can with family and friends. She recently won The Named Lands Poetry Contest. If you would like to find out what she's working on, please visit her blog.