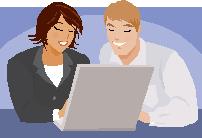 We get it into our head that writing is a solitary art.When we first dreamed of being a writer, who saw themselves as sitting along in a cabin banging on a typewriter? Come on. I see you over there. Put your hand up. You know it's true.  Okay, put your hand down. If you were really advanced in your dreaming you'd have acknowledged on the edges that at some point other people come into the picture – an agent, a publisher, the reader. But that was way downstream. This whole creative gig. It could be done alone. Right?
Not.
It's time we stopped kidding ourselves.
We lose writers – good writers – every day from the profession because they "go it alone." While actually putting your butt in a chair and writing will almost always be a solo activity (even in a collaboration you are responsible for writing your part) the path that leads you to your keyboard and beyond is filled with other people. Spouses, significant others, and friends give us support, we may bounce ideas or our outline off them. We confer with experts to ensure our writing is accurate enough to be believable. We work with dozens of people to hone the story, the prose, the cover, the blurb, and all the lovely marketing bits. We need our readers.
But the biggest thing your writing tribe does is keep you going when you are in a low spot.
This past week I was in a low spot. I'd been rejected from two anthologies.   Two of my stories had been rejected from different anthologies.  I was sincerely happy for everyone who made it in but the rejection cut deep. Mostly though, I've had some stuff hanging over me for a while and it was coming to a head. I felt so alone. All my husband's attempts to calm me put me into full-out panic attacks. (Sorry, honey.) So, I did what I've never done before. I asked my writing tribe, this tribe, for help. Now, I didn't really tell them what was happening just that I was going to be facing a ton of adversity in the next 24 hours. The outpouring of support was humbling. Their words of encouragement, thoughts and prayers gave me the strength to go through that trial with grace and a sense of peace. My Tribe had my back. I wouldn't have come through the crisis without them.
At the same time our Facebook group was discussing another writer the profession had lost because going alone had broken her spirit.  She went so far as to announce the death of her pen name. She didn't have a support group. It broke many of our hearts. It's a huge loss.
It shouldn't have happened.
The advice I'd give my younger writing self? Even more than "don't listen to your high school English teacher. You absolutely can and did write the story that touched her heart."? It's this:
Surround yourself with like minded-people who are going through or have already gone through what you are going through.
With your Tribe you can accomplish anything you work for.
Ask for and accept help. This is not a a  sign of weakness but of strength.
Know you aren't alone.
YOU ARE NOT ALONE.