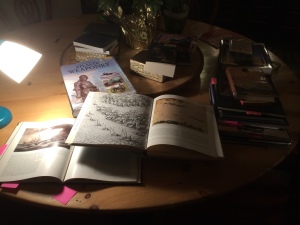 When I picked my topic for this month (titled above) I didn't realize the title of my first Fictorian post this year, "Keeping the Day Job." The two titles definitely describe where I was and am in my writing and I'm happy to see the progress made this past year due in part to my keeping goals.
I wrote everyday. There might have been a month or two that I didn't hit 20,000 words, but there were others that I surpassed that. I did not submit something each month, but I submitted 12 pieces for publishing during the year. I finished a novel, my first, The Broken Amulet, and am in the stage of cleaning it up and editing. I went to Phoenix and Salt Lake City Comicons. And I attended David Farland's writing workshop.
It was there that writing changed for me from a hobby to a career. In that workshop I was able to see how I could actually make money at doing what I enjoy. I've started working on a new book. David Farland helped me see how to craft, research, and frame the story and I'm confident that I will have it in the hands of an excited publisher by the end of 2015.
There was a moment in the workshop that I realized that I could be a successful author if I continued to learn and grow and develop as a writer. There wasn't a month last year that I wasn't a better writer than the month before.
So I've set some new goals and have developed a bit of work ethic. Here are some things that I am doing different now.
I set up an author email, jacebkillan@gmail.com that I use to keep all my writing stuff in one place. As I have ideas for short stories or plot twists in my novels I email those to myself with a descriptive subject line so that I can find them later, but I don't spend too much time thinking on new things and forsaking my current work in progress.
I set up an author profile at Wattpad. At some point I will share a short story or two. It seems to be a great tool for aspiring and published writers.
I write at least a couple blog posts each month. This gives me a break from my work in progress and allows me to process things on my mind. It also helps in developing a readership.
I started outlining my novels. This was a hard thing for me as I'm a prancer or discovery writer, but Farland's workshop helped me get some direction without losing interest in a story once it's laid out. Another great tool is Farland's Million Dollar Outlines.
With a good outline, I'm able to research with direction. I've spent the last month scouring old books, the internet, and museums for research on my work in progress. The picture above is of my readings this past weekend. In my hobby days of writing I would have taken the lazy, less expensive, less timely road of just making it up. Actually, I wrote a chapter of my current work in progress before Farland's class.
The scene takes place in Milan, Italy in 1774, where the protagonist is enjoying chicken parmesan after having travelled a great distance from Nice, France. After Farland's class I learned through research that Milan, Italy didn't exist in 1774 but belonged to the House of Savoy in a country known as Sardinia. And tomato sauce wasn't really used in Italian cuisine until later. And Nice wasn't yet a part of France either, but also belonged to Sardinia and it wasn't until a few years later during the Napoleonic era that Nice was annexed. So I rewrote the chapter and it no longer reeks of novice.
I started using Scrivener to keep track of my research and keep my thoughts and outline organized.
Every movie, television show, book that I experience is now analyzed for its story telling features.
To wrap up, my goals for this next year are as follows
Finish my work in progress
Find an agent
Submit at least once to Writers of the Future
Finish editing The Broken Amulet
Outline another novel
Attend two cons
Attend two writing workshops
Register for Superstars in 2016
I'm confident that I will become a published writer and professional author because I continue to improve, I continue to learn, and I continue to write.