Writing is hard, lonely, and often underappreciated work. Authors spend years, if not decades, practicing and perfecting our craft with the hopes of someday being deemed "publishable." Each year, thousands of aspiring authors risk ego and scathing rejection for the chance to see their name in print. Most fail and give up. After all, walking away from the dream is easier and less painful than going on.
However, the truth is that there is only one person that can end the journey from novice to pro. Published authors aren't victors, but rather they are survivors. They are those who have risked, been rejected, and stood back up to go another round. Whether traditionally or independently published, authors and hopefuls alike need to be constantly putting themselves out into the world. We need to attend conventions and seminars to network and learn. We need to keep writing, submitting and resubmitting until the popcorn starts popping. Most importantly, we need to remember why we chose this path in the first place. It is that self-awareness that will keep us sitting down in front of the keyboard.
Though we have spoken extensively on business and writer's craft here on the Fictorians, few of us have gone into our raison d'être. Largely that is because those experiences are deeply personal and often painful. However, the industry isn't getting any easier. So, this month, we'll talk about our motivations and inspirations with the hopes of sharing our strength and experiences with each other and with y'all.
I write because I believe in the power of fiction. To tell stories is to be human. Even our most ancient ancestors painted stories on the walls of caves so the exploits of great hunts and mythic figures could be shared with the future. Stories provide comfort and companionship to the weary and those in pain. They excite and invigorate the bored, and provide a safe place for the tormented or insecure to seek answers to the greater questions of life. Through books, we are able to live another life, experience another's thoughts, and have sympathy for types of people with whom we may never interact. Our stories allow us to reach well beyond ourselves and help or inspire others.
I have heard some of these stories, and so know the power of fiction first hand.
Because of fiction, soldiers earn purple hearts by jumping on grenades to save the lives of their comrades.
Because of fiction, teen aged girls leave an abusive home with nothing more than a backpack of clothes and a single beloved book.
Because of fiction, a young man found hope in the midst of depression.
Fiction has power because we as authors feed our energy, the product of our imaginations, and the strength of our beliefs and convictions into the stories. However, for that world changing fiction to exist in the first place, we must understand ourselves well enough to know that we can never give up on the dream.
About the Author: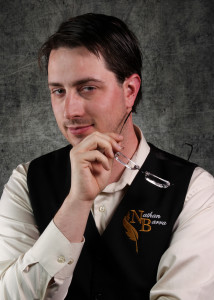 Though Nathan Barra is an engineer by profession, training and temperament, he is a storyteller by nature and at heart. Fascinated with the byplay of magic and technology, Nathan is drawn to science fantasy in both his reading and writing. He has been known, however, to wander off into other genres for "funzies." Visit him at his webpage or Facebook Author Page.