I've always said that we are our own worst critic… until you get married. It's a tongue-in-cheek phrase, to be sure, and while my wife is certainly generous with her critiques of my clothing choices ("those shoes with that pair of pants?") or my decisions regarding parenting ("you're feeding them that?"), she's been nothing but encouraging when it comes to my writing career.
In fact, she was the reason I decided to bite the bullet and go full time in 2017. I'd been writing fiction for around five years, and toward the end of 2015 I decided to begin treating it more like a business – setting a schedule for myself, word count goals, dabbling with marketing and advertising, and spending more than an hour a year on taxes.
It was sometime in January, during one of our scheduled date nights, when she asked me the fateful question: "So, when are you going to quit your day job and write full-time?"
I wasn't sure how to respond. I'd made more money in the previous three months from my fiction than either of us had in our full-time day jobs, but the thought of abandoning it all and going full time as a writer was, in short, terrifying.
But she prevailed, and we came up with a plan: Sometime after Easter (I worked at a church, so doing anything major before Easter is near impossible) I would have "the talk" with my bosses. We'd come up with a solid plan for my transition out and into the world of self-employment.
My first day of full-time writing was July 1, 2017. I walked downstairs into my "new" office – the basement – and sat down to write. I wrote a couple thousand words, got tired, and went upstairs to get lunch. After lunch, I sat back down and tried to write and found out that writing all day long wasn't something I could do easily. I was good for three, maybe four thousand words a day. On a crazy caffeine-fueled day, maybe five.
What was I supposed to do with the rest of the time?
Well, I soon found out.
Almost immediately my sales began to slump. They drifted down, at first on par with what I was making at the end of the previous year, then even lower. By August, I was down to what I was making at my earlier full-time job.
Then my wife quit her job. It was something we'd planned, and talked about extensively, and it was something that had been in motion for some time, but it had snuck up on us. And it couldn't have happened at a worse time financially.
My book sales continued their downward sloping run until I was frantic, trying to figure out what I was doing wrong. ("Is this the universe telling me I've made a horrible mistake?") I tried reaching out to colleagues, tried launching the next book, and starting thinking about a contingency plan in case I had to start job hunting in the next few months. We had an emergency fund for this very thing, but I'd never thought we'd actually have to use it.
I kept churning out words, however, and I started advertising my work on Amazon and Facebook once again. I'd stopped when my sales were doing well, and I thought that perhaps the "lag time" from starting/stopping ads could be around 2-3 months, meaning that while I'd stopped them months ago, I was only now seeing the effects. That also meant that I needed to start advertising once again, and hope that sales increased in a few months.
Advertising and marketing became my full-time job, and writing my part-time job. I put in four to five hours a day analyzing sales data and planning campaigns, building ads and reading everything I could get my hands on about marketing and advertising. I went to conference in November with the sole purpose of learning the ropes of "writing as a business."
My December sales are looking up, but I've learned that this whole game is one of risk, hard work, and countless unmeasurable variables. It has huge opportunities and the upside is great, but there are always going to be learning curves, pride-swallowing sessions, and perhaps visits to a counselor.
My 2018 will be different. I've learned what it takes to succeed as an indie author in the current era: to constantly be working on the next book, to build relationships with others in the field, and to never be sitting idle. I'll be learning new things as much as possible, planning long-term goals, and treating my writing like a business.
I won't be subjected to the emotional swings of seeing my hourly, daily, and monthly sales data, because I won't be allowing myself to act upon short-term data. I will work to improve my craft and increase the number of assets I have available, and I'll treat data as what it is: information. That information has no bearing on my success or failure – it's merely a set of runes to be interpreted and used to my benefit.
I'll get better at "interpreting the runes" and I'll get better at learning how to be better. If 2017 was a year of "hard knocks learning," 2018 will be a year of putting that learning into practice and seeing where this little career of mine will lead.
_____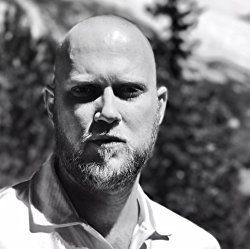 Nick Thacker is the author of best-selling action-adventure thrillers, including the Harvey Bennett Thrillers series. He lives in Colorado Springs with his wife, two kids, and two dogs. He can be found online at www.nickthacker.com